How to be a Nurse or Midwife Leader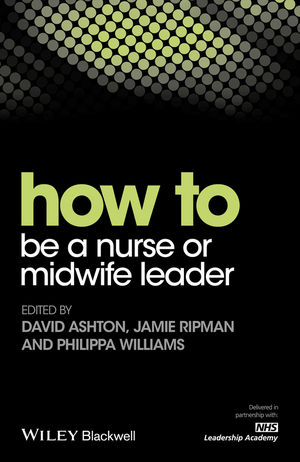 How to be a Nurse or Midwife Leader
ISBN: 978-1-119-18702-8 December 2016 Wiley-Blackwell 232 Pages
Description
How to be a Nurse or Midwife Leader is an indispensable guide for all nurses and midwives who wish to develop and improve their practice as leaders. Written in collaboration with the NHS Leadership Academy, this practical book draws on the real experience of over 10,000 nurses and midwives to bring leadership dilemmas to life in specific situations.
Key learning features include:
How to develop your self-awareness
How to develop your personal impact and presence
How to survive and thrive
How to get your message across
How to get the best out of others
How to work with and lead other professionals and patients
How to have courageous conversations
How to balance conflicting demands and needs
Containing exercises and reflective questions to help apply theory to leadership practice, How to be a Nurse or Midwife Leader is an ideal companion for all nurses and midwives, whether you are newly qualified, or stepping into a team leader role.
Table of contents
Authors vii
Contributors viii
Foreword ix
Karen Lynas
Foreword xi
Jane Cummings
Introduction xiii
Part 1: Leading myself well 1
Chapter 1: To begin at the beginning 3
David Ashton
Chapter 2: Presence and personal impact 20
Philippa Williams and Jamie Ripman
Chapter 3: Surviving and thriving – maintaining resilience 45
James Butcher with additional contributions from Nichola Jacob
Part 2: Leading others with skill 67
Chapter 4: Getting my message across 69
John Deffenbaugh
Chapter 5: Getting the best out of others 92
Alex Pett
Chapter 6: Influencing with integrity 117
Louisa Hardman
Chapter 7: Courageous conversations 137
Jamie Ripman and Philippa Williams
Part 3: Leading collectively and collaboratively 169
Chapter 8: Moving between the dance floor and the balcony (Heifetz and Linsky 2002) 171
Nicholas Bradbury with additional contributions from Nichola Jacob
Chapter 9: Helping to lead the NHS into the future 188
Caroline Alexander, Catherine Eden, Nichole McIntosh, Natilla Henry with David Ashton, Michelle Mello
Afterword 201
David Ashton, Jamie Ripman and Philippa Williams
Index 204
Reviews
Leadership is a well researched and described topic that is relevant to professions throughout health and social care.
This book, which was written in collaboration with the NHS Leadership Academy, focuses on real-life experiences of nurses and midwifes who have faced leadership dilemmas.
Its strength is its practical approach, based and grounded in academic theory.
It starts by looking at identity and self, a vital subject for any leader. Understanding ourselves and how we want to be seen are the foundations of being a good leader and allows for personal development.
As a leader, I found the book particularly useful as a reference when encountering difficult or challenging situations.
The section on chairing meetings prompted me to reflect on my practice and adapt how my meetings are conducted.
The topic of leadership is not a new one but how the book has been set out to address the topic is purely practical in its approach.
It allows the reader freedom to reflect on practice and consider how they use their leadership skills in their day-to-day practice so it can be based on academic theory.
Overall, this is a thoroughly enjoyable book relevant to health and social care professionals at all levels. - Helen Reeves, operational lead for Walsall and inpatient services, St Giles Hospice, Whittington, Staffordshire October 2018