Reviews in Computational Chemistry, Volume 14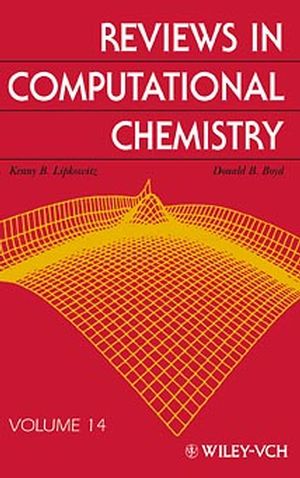 Reviews in Computational Chemistry, Volume 14
ISBN: 978-0-470-12618-9 October 2009 560 Pages
Description
THIS VOLUME, WHICH IS DESIGNED FOR STAND-ALONE USE IN TEACHING AND RESEARCH, FOCUSES ON QUANTUM CHEMISTRY, AN AREA OF SCIENCE THAT MANY CONSIDER TO BE THE CENTRAL CORE OF COMPUTATIONAL CHEMISTRY. TUTORIALS AND REVIEWS COVER
* HOW TO OBTAIN SIMPLE CHEMICAL INSIGHT AND CONCEPTS FROM DENSITY FUNCTIONAL THEORY CALCULATIONS,
* HOW TO MODEL PHOTOCHEMICAL REACTIONS AND EXCITED STATES, AND
* HOW TO COMPUTE ENTHALPIES OF FORMATION OF MOLECULES.
* A FOURTH CHAPTER TRACES CANADIAN RESEARCH IN THE EVOLUTION OF COMPUTATIONAL CHEMISTRY.
* ALSO INCLUDED WITH THIS VOLUME IS A SPECIAL TRIBUTE TO QCPE. FROM REVIEWS OF THE SERIES

"Reviews in Computational Chemistry proves itself an invaluable resource to the computational chemist. This series has a place in every computational chemist's library."-JOURNAL OF THE AMERICAN CHEMICAL SOCIETY
Table of contents
The Pluses and Minuses of Mapping Atomic Charges to Electrostatic Potentials (M. Francl & L. Chirlian).

An Introduction to Coupled Cluster Theory for Computational Chemists (T. Crawford & H. Schaefer).

Introduction to Zeolite Modeling (B. van de Graaf, et al.).

Towards More Accurate Model Intermolecular Potentials for Organic Molecules (S. Price).

Nonequilibrium Molecular Dynamics (C. Mundy, et al.).

History of the Gordon Research Conferences on Computational Chemistry (D. Boyd & K. Lipkowitz).

Appendix.

Indexes.
Reviews
"...certainly a book that should be considered as an essential component for any complete natural science library." (Scientific Computing World, November 2000)