Kirk-Othmer Encyclopedia of Chemical Technology, Volume 25, 5th Edition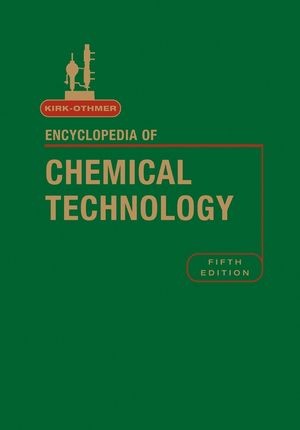 Kirk-Othmer Encyclopedia of Chemical Technology, Volume 25, 5th Edition
ISBN: 978-0-471-48497-4 January 2007 944 Pages
Description
The fifth edition of the Kirk-Othmer Encyclopedia of Chemical Technology builds upon the solid foundation of the previous editions, which have proven to be a mainstay for chemists, biochemists, and engineers at academic, industrial, and government institutions since publication of the first edition in 1949. The new edition includes necessary adjustments and modernization of the content to reflect changes and developments in chemical technology.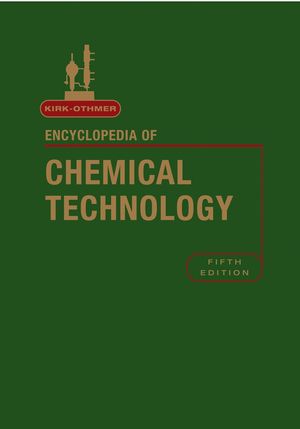 Buy Set of 1 Items
This item: Kirk-Othmer Encyclopedia of Chemical Technology, Volume 25, 5th Edition
Purchased Together:$11,928.75
Table of contents
Titanium Compounds, Inorganic.
Titanium Compounds, Organic.
Toluene.
Toluenediamine.
Toxicology.
Trademarks.
Transport Phenomena for Chemical Reactor Design.
Transportation.
Tungsten and Tungsten Alloys.
Tungsten Compounds.
Uranium and Uranium Compounds.
Urethane Polymers.
Vaccine Technology.
Vanadium and Vanadium Alloys.
Vanadium Compounds.
Vanillin.
Vinyl Acetate Polymers.
Vinyl Alcohol Polymers.
Vinyl Chloride.
Vinyl Chloride Polymers.
Vinylidene Chloride Polymers.
Vitamin C (Ascorbic Acid).
Vitamins.
Waste Management, Hazardous.
Waste Management, Radioactive.
Waste Management, Solid.
Wastewater Treatment.