Signal Crosstalk in Plant Stress Responses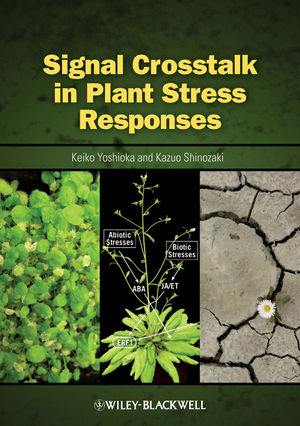 Signal Crosstalk in Plant Stress Responses
ISBN: 978-0-813-80587-0 August 2009 Wiley-Blackwell 280 Pages
Description
Signal Crosstalk in Plant Stress Responses focuses on current findings on signal crosstalk between abiotic and biotic stresses, including information on drought, cold, and salt stress and pathogen infection. Divided into seven chapters on critical topics in the field, the book is written by an international team of expert authors. The book is aimed at plant scientists, agronomists, and horticulturalists, as well as students.
Table of contents
Chapter 1. ABA in pathogen resistance (pathological point of view).
Chapter 2. Mitogen Activated Protein Kinase (MAPK) cascade.
Chapter 3. Trascription factors in abiotic and biotic stress responses-.
Chapter 4. Ca2+ mediated signals/ Ca2+ dependent protein kinases /calmodulin and calmodulin like proteins / calcineurin like proteins.
Chapter 5. Manipulation of plant hormonal crosstalk by microorganisms.
Chapter 6. Pathogen Resistance in Environmentally Sensitive Arabidopsis Mutants.
Chapter 7. Involvement of Reactive Oxygen Species/Nitric oxide in signal crosstalk
Reviews
"Expert researchers examine the ways in which plants coordinate and prioritize their responses to multiple stresses … .Contributors describe the most current research in this important field." (Book News, December 2009)
Features


First book to extensively cover this emerging field

Summarizes the current body of knowledge on crosstalk between plant stresses

Presents groundbreaking findings about signal transduction

Written by international experts in the field