Class in Contemporary China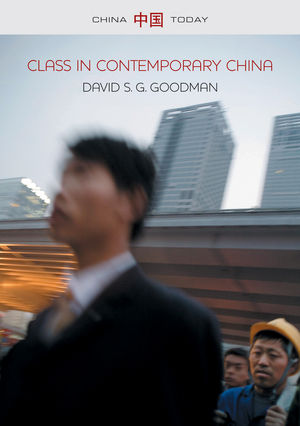 Class in Contemporary China
ISBN: 978-0-745-65337-2 August 2014 Polity 272 Pages
Download Product Flyer
Download Product Flyer
Download Product Flyer is to download PDF in new tab. This is a dummy description. Download Product Flyer is to download PDF in new tab. This is a dummy description. Download Product Flyer is to download PDF in new tab. This is a dummy description. Download Product Flyer is to download PDF in new tab. This is a dummy description.
Description
Choice Outstanding Academic Title for 2015

More than three decades of economic growth have led to significant social change in the People's Republic of China. This timely book examines the emerging structures of class and social stratification: how they are interpreted and managed by the Chinese Communist Party, and how they are understood and lived by people themselves.

David Goodman details the emergence of a dominant class based on political power and wealth that has emerged from the institutions of the Party-state; a well-established middle class that is closely associated with the Party-state and a not-so-well-established entrepreneurial middle class; and several different subordinate classes in both the rural and urban areas. In doing so, he considers several critical issues: the extent to which the social basis of the Chinese political system has changed and the likely consequences; the impact of change on the old working class that was the socio-political mainstay of state socialism before the 1980s; the extent to which the migrant workers on whom much of the economic power of the PRC since the early 1980s has been based are becoming a new working class; and the consequences of China's growing middle class, especially for politics.

The result is an invaluable guide for students and non-specialists interested in the contours of ongoing social change in China.
Table of contents
Tables vii
Maps viii
Chronology x
Preface xiii
Abbreviations, Measures and Note on Chinese Names and Transliteration xvi
1 Introduction: Understanding Class in China 1
Understanding China and class 5
Revolutionary class analysis 9
The bourgeoisie within the Party 17
Class by ideology; class by occupation 22
Analysing class in contemporary China 28
2 Social Stratification under Reform 34
Markers of change 35
Rural-urban relations 40
Reform and inequality 45
Stratification and class 54
The emergent class structure 58
3 The Dominant Class 64
The political elite 67
The economic elite 74
Power and wealth 82
4 The Middle Classes 92
Considering the middle class 94
Size and wealth 100
The aspirational middle class 109
The intermediate middle classes 116
5 The Subordinate Classes 122
Public-sector workers 128
Workers in the non-public sector 135
Peasants 143
6 The Political Economy of Change 149
Market transition 149
Democratization 153
A new working class 160
Peasant activism 166
Inequality and regime legitimacy 172
7 Conclusion: Inequality and Class 177
Inequality 181
Class 186
Bibliography 191
Index 221
Reviews
Choice Outstanding Academic Title for 2015

"Class in Contemporary China has done a noble job in what is an extremely complicated and diffused subject. Goodman has managed to piece together a survey of disparate understandings of class and bring them into a coherent portrait, taking the studies and analysing them in detail. It is an absorbing look, given the tremendous change in China that is also changing the world."
LSE Review of Books

"Goodman has an eagle eye for what is crucial in China's development. His analysis of the important but under-appreciated role of class and class analysis in modern China should be mandatory reading. The book provides a vital contribution to our understanding of continuity and change in China."
Anthony Saich, Harvard Kennedy School

"Class is at the basis of the Chinese Communist revolution, yet today's China is a world away from the class-based politics of the Mao era. In this highly readable and meticulously researched book, David Goodman gives readers a powerful account of what precisely class means in today's China and why it matters. From the emergent middle class to the new classes that make up China's working population, the analysis gives detail that reveals just how complex class has become. The book brings together Goodman's interdisciplinary skills as a historian and political scientist, and it draws from the latest cutting-edge data from within China itself. On a crucial issue shaping China in the twenty-first century, this is a must-read book."
Rana Mitter, University China Centre, University of Oxford
"David Goodman provides a comprehensive and admirably succinct overview of a complex subject with a voluminous literature. This excellent book provides all the tools needed to contextualise and analyse these changes, including a concise theoretical discussion, an overview of class under Mao and, during the reform era, an analysis of the dominant, middle and subordinate classes and a thoughtful discussion about class and the growing economic inequalities in China. I highly recommend it to students and scholars of contemporary Chinese economics, politics and society."
Political Studies Review


"This book combines a complete picture of the class structure in twentieth-century China, an analysis of the social effects of thirty years of economic reforms that created a socialist market economy, an evaluation of the ongoing political effects of the restructuring of Chinese society, and a general contribution to the theory of social class and social change. […] The book certainly represents a useful work tool for the newcomer who wants to understand the foundations of the structure and dynamics of class relations in China; but this remarkable overview is above all indispensable reading for those who wish to break with methodological nationalism and to internationalize the sociological discussion of social class."
Lectures