Detox Your Desk: Declutter Your Life and Mind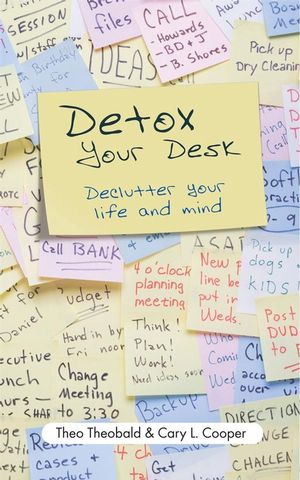 Detox Your Desk: Declutter Your Life and Mind
ISBN: 978-1-841-12787-3 November 2007 Capstone 280 Pages
Description
Why is there never enough time in the day to do all the stuff you want to?

Why does your in-tray just keep growing?

Is it alive?

Written for the time-starved and terminally untidy, Detox Your Desk is the perfect antidote to pressure cooker of the modern office. It's flat out but you still fell like you're not getting anything done. And no wonder. It's hard to do anything meaningful when you're swamped by piles of paperwork and endless 'to do' lists.

Detox Your Desk helps you fight back by purging your system office toxins, so you can take control of the everyday stuff and calmly field whatever lands in your in-tray.

It starts with the physical clearing out of all the rubbish that litters your life and then gives you practical tips to help free up your thinking. Detox Your Desk puts you on a ten-day programme that'll result in a tidy workspace and a clear head. All of the changes are easy. Stick with them over the long term and you'll change the way you work forever, giving you more time and a greater choice in every area of you life.

This you big chance to get on top of your workload and start to enjoy work and life again. You'll soon be the most efficient and effective person you know!
Introduction.
SECTION ONE: ANALYSIS.
Chapter one: Our generation and the way we live today.
Chapter two: The context of your working life.
Chapter three: How we fill our time.
Chapter four: All about you!
Chapter five: Guilt and other problems.
Chapter six: The importance of de-cluttering your mind.
SECTION TWO - METHOD.
Chapter seven: 4 stages of preparation.
Chapter eight: Tools and tips for detoxing.
Chapter nine? Good detox behaviours.
Chapter ten: Being tidy.
Chapter eleven: Final detox thoughts.
Chapter twelve: Ready, steady, go!
SECTION THREE: THE DETOX PROGRAMME.
Chapter thirteen: Day 1.
Chapter fourteen: Day 2.
Chapter fifteen: Day 3.
Chapter sixteen: Day 4.
Chapter seventeen: Day 5.
Chapter eighteen: Day 6.
Chapter nineteen: Day 7.
Chapter twenty: Day 8.
Chapter twenty one: Day 9.
Chapter twenty two: Day 10.
Chapter twenty three: Post detox.
Index.
""[The book contains] ... a practical 10 day programme which will result in a tidy workspace and clear mind.""  (
Start Your Business
, January 2008)
"If you're terminally untidy and starved of time…do yourself a huge favour and read this book!" (Personal Success, March 2008)