Excessive Appetites: A Psychological View of Addictions, 2nd Edition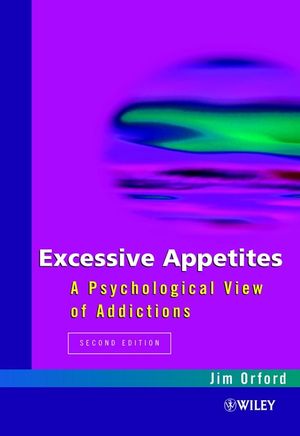 Excessive Appetites: A Psychological View of Addictions, 2nd Edition
ISBN: 978-0-471-98231-9 March 2001 424 Pages
Description
This eagerly awaited new edition of Excessive Appetites will offeryou a complete and comprehensive revision of this classic text inthe field of addictions.

Covering a wide variety of different forms of addiction fromalcohol, tobacco and other drugs, through to gambling, eating andsex this book provides an up-to-date and authoritative account ofcore knowledge in this vital area.

Comprehensive coverage, from the origins and processes ofaddiction right through to the ways in which people overcome theiraddictions, and the implications for interventions.
Table of contents
About the Author.

Preface.

Changing the Shape of the Field.

THE EXCESSIVE APPETITES.

Excessive Drinking.

Excessive Gambling.

Excessive Drug Taking.

Excessive Eating and Exercising.

Excessive Sexuality.

HOW EXCESS DEVELOPS.

Taking Up Appetitive Behaviour.

Personal Inclinations.

The Social Context.

Overcoming Restraint.

The Development of Strong Attachment.

Conflict and Its Consequences.

OVERCOMING EXCESS.

The Place of Expert Help.

Giving Up Excess.

Excessive Appetites: A Social--Behavioural--Cognitive--MoralModel.

Reference.

Author Index.

Subject Index.
Reviews
"user friendly, written in an easy, unpretentious style, withilluminating quotations and relevant tables and references. Forstudents or any reader interested in addiction, this book is areliable crash course. For those who work in the field, it is asubstantial contribution to the debate about what addiction is."(Addiction Today, September 2001)

"This classic text .... should be of value to any person whowishes to add to their understanding ofthe area, whether for thepurposes of treatment, prevention, harm
reduction or for personal education." (Addiction, Vol.97 2002)

"...wide ranging and well argued..a reliable crash course..."(Addiction Today, September/October 2001)

"...It's a damn good read...stuffed withinteresting anecdotes, quotations and data..." (European EatingDisorders Review, Vol.10, No.1-2, 2002)

"...a wonderfully comprehensive reference book." (Behavioraland Cognitive Psychotherapy, Vol.31, 2003)