Geomorphology and River Management: Applications of the River Styles Framework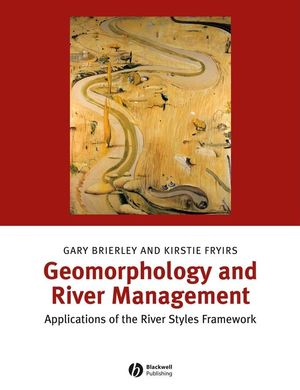 Geomorphology and River Management: Applications of the River Styles Framework
ISBN: 978-1-405-11516-2 December 2004 Wiley-Blackwell 416 Pages
Description
This book outlines a generic set of procedures, termed the River Styles Framework, which provides a set of tools for interpreting river character, behavior, condition, and recovery potential. Applications of the framework generate a coherent package of geomorphic information, providing a physical template for river rehabilitation activities.

management and restoration of rivers is a rapidly growing topic for environmental scientists, geologists and ecologists - this book provides a learning tool with which to approach geomorphic applications to river management

describes the essential geomorphological principles underlying river behaviour and evolution

demonstrates how the River Styles Framework can turn geomorphic theory into practice, to develop workable strategies for restoration and management

based on real case studies and authors extensive experience

applicable to river systems worldwide

synthesises fluvial geomorphology, ecology and management
Preface.
Acknowledgments.
Chapter 1 Introduction.
Part I: The Geoecological Basis for River Management.
Chapter 2 Spatial considerations in aquatic ecosystem management.
Chapter 3 Temporal considerations in aquatic ecosystems management.
Part II: Geomorphic Considerations for River Management.
Chapter 4 River character.
Chapter 5 River behavior.
Chapter 6 River change.
Chapter 7 Geomorphic responses of rivers to human disturbance.
Part III: The River Styles Framework.
Chapter 8 Overview of the river styles framework and practical considerations for its application.
Chapter 9 Stage one of the river styles framework: catchment-wide baseline survey of river character and behavior.
Chapter 10 Stage two of the river styles framework: catchment-framed assessment of river evolution and geomorphic condition.
Chapter 11 Stage three of the river styles framework: prediction of likely future river condition based on analysis of recovery potential.
Chapter 12 Stage four of the rivers styles framework: implications for river management.
Chapter 13 Putting geomorphic principles into practice.
References.
Index
"Clearly the audience for this book are students taking a course in river management; they will find everything they need in it. The book is up-to-date, clearly written and the quality (photographs, figures and layout) is good."
Journal of Sedimentary Research, August 2005
<!--end-->
"The text, which has a very clear structure and layout, is well written and has excellent illustrations throughout...a timely contribution to the literature and should be essential reading for all those with an interest in the science and practice of river management and river restoration." Progress in Physical Geography


management and restoration of rivers is a rapidly growing topic for environmental scientists, geologists and ecologists - this book provides a learning tool with which to approach geomorphic applications to river management

describes the essential geomorphological principles underlying river behaviour and evolution

demonstrates how the River Styles Framework can turn geomorphic theory into practice, to develop workable strategies for restoration and management

based on real case studies and authors extensive experience

applicable to river systems worldwide

synthesises fluvial geomorphology, ecology and management