Heart and Soul: Australia's First Families of Wine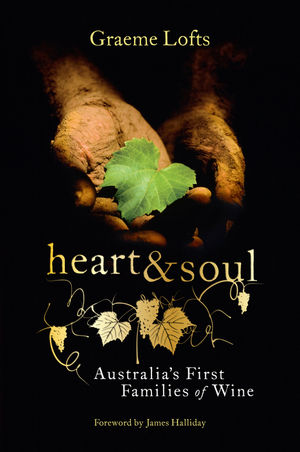 Heart and Soul: Australia's First Families of Wine
ISBN: 978-1-742-46924-9
Oct 2010, Wrightbooks
360 pages
Description
A look at the famous families who pioneered the Australian wine industry over generations
Heart and Soul takes you on a journey through the history, the people, the vineyards, and the regions of Australia's most famous wineries. Chronicling the triumphs and travails of the families who led the way, the book offers an exciting showcase of Australian wine history in all its diversity and deliciousness.
With more than 1,200 years of winemaking experience between them, the first families of Australian wine share stories that are as rich and varied as the wines they produce. It covers their relationships with the land itself, their ascent in the industry, the inspiration behind their signature wines, and the passion that goes into every vat. Exclusive photographs, wine labels, regional maps, and informative sidebars are peppered throughout.
With a Foreword by Australia's beloved wine commentator, James Halliday
Rare and fascinating photographs appear throughout the book
This is the definitive book on the history and personalities of the Australian wine industry
For anyone who loves Australian wine, Heart and Soul is a must-read volume that is sure to enlighten and entertain.
About the AFFW initiative.
Foreword.
Introduction.
1 Yalumba Beating the odds.
2 Tyrrell's Wines A magnificient obsession.
3 Tahbilk Priceless heritage.
4 Henschke The gardens of Eden.
5 Campbells It's in our blood.
6 McWilliam's Morning light.
7 Brown Brothers Celebrating diversity.
8 d'Arenberg Deadly serious fun.
9 De Bortoli Wines La tavola lunga.
10 Jim Barry Wines More than a lifetime.
11 Taylors On the banks of the Wakefield.
12 Howard Park New blood.
Epilogue.
Glossary.
Acknowledgements.
Credits.
Index.