History of Childbirth: Fertility, Pregnancy and Birth in Early Modern Europe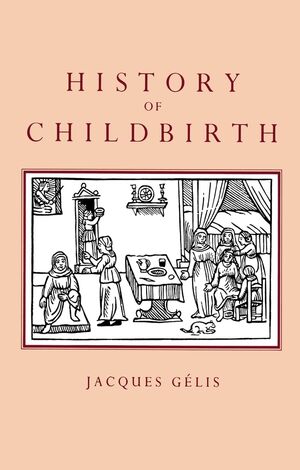 History of Childbirth: Fertility, Pregnancy and Birth in Early Modern Europe
ISBN: 978-0-745-61840-1 August 1996 Polity 344 Pages
Description
Highly detailed and clearly written, this book is the first full-length study of the complex system of practices, beliefs and taboos which surrounded conception and childbirth in early modern Europe.

In a rich and scholarly study, Jacques Gélis reconstructs the activities and attitudes of the midwives and mothers, and the sufferings they had to endure. He continues with an examination of the role of the Church, the herbalist and the mineral world (touchstones and talisman) in the explanation of the mysteries of procreation.
Introduction.
Part I: The Rhythms of the Earth: The Mother of all Things:.
1. Man, the Earth and the Cosmos.
2. Daughter, Wife and Mother.
3. What if No Child Appears?.
4. The Cycle of Life.
Part II: Pregnancy: A Time of Hope, Suffering and Anxiety:.
5. The Body in Pregnancy.
6. The Experience of Pregnancy.
Part III: The Woman Giving Birth:.
7. The Society of Birth.
8. Hastening the Hour of Deliverance.
Part IV: Between Mother and Child:.
9. Birth: A Double Liberation.
10. Suffering to Give Life.
11. Stages in the Delivery.
12. The Placenta: Double of the Child.
13. The Governance of Mother and Child.
Part V: The Socialization of the Child:.
14. Welcoming the New Baby.
15. Socializing the Child: Giving a Name.
Part VI: The Divagations of Nature:.
16. The Falling of the Flower.
17. The Unripe Fruit.
18. Unnatural Delivery.
19. Death, the Greatest Aberration.
20. Where does the Beast End and Man Begin?.
Conclusion.
Notes.
Further Reading.
"With great erudition and an enviable feeling for the material, Gélis recovers the world of beliefs concerned with fertility, pregnancy, childbirth and infancy ... from medieval times down to modernity ... This book will surely become the standard scholarly text on the history of childbirth in pre-modern time."
Roy Porter, Wellcome Institute
"A moving record of women's lives." Times Literary Supplement
"It is immensely valuable that Gélis brings back the forgotten importance of symbolic meanings and therefore the awareness of an integration with nature." Times Higher Education Supplement
"Much fascinating information and many anecdotes ... it is such a good book." History Today
"The variety and detail make compulsive reading." Medical History
"A significant work ... it offers a wealth of new material and points to many rich areas for further research." French History
"A breathtaking view of pre-modern rural and urban life ... this book successfully conjures up the world of our foremothers and their daily lives and beliefs." Medical Women
"Enjoyable, informative and very readable." Journal of Biosocial Science
The first full-length study of the history of childbirth in early modern Europe, now available in paperback
The author recovers the world of beliefs and taboos which surrounded fertility, pregnancy, birth and infancy current in Europe from medieval times through to the nineteenth century
The History of Childbirth will hold great appeal for the academic community and will also attract general readers.