Hospitality Management Accounting, 9th Edition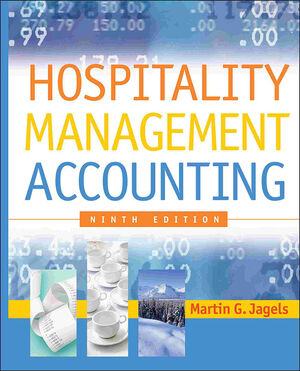 Hospitality Management Accounting, 9th Edition
ISBN: 978-0-471-68789-4 February 2006 608 Pages
Description
Throughnine editions, this book remains the text that defines the undergraduate course. Hospitality Management Accounting equips hospitality management students with the skills they need to take command of managing finances by providing insightinto theanalysis and interpretations of financial statements.
Table of contents
Preface.
Chapter 1: Basic Financial Accounting Review.
Chapter 2: Understanding Financial Statements.
Chapter 3: Analysis and Interpretation of Financial Statements.
Chapter 4: Ratio Analysis.
Chapter 5: Internal Control.
Chapter 6: The "Bottom-Up" Approach to Pricing.
Chapter 7: Cost Management.
Chapter 8: The Cost-Volume-Profit Approach to Decisions.
Chapter 9: Operations Budgeting.
Chapter 10: Statement of Cash Flows and Working Capital Analysis.
Chapter 11: Cash Management.
Chapter 12: Capital Budgeting and the Investment Decision.
Chapter 13: Feasibility Studies—An Introduction.
Chapter 14: Financial Goals and Information Systems.
Glossary.
Index.
New To This Edition
Detailed and consolidated coverage of straight-line, units-of-production, sum-of-the-year's-digits, and double-declining depreciation methods
Updated material on inventory control methods, with emphasis on perpetual inventory
Extensive information on the use of computer applications and inventory control software
A sequential presentation of statement of cash flows and working capital
New end-of-chapter exercises and problems that have been thoroughly checked for accuracy
Features
Contains numerous pedagogical features in each chapter, including key terms, chapter summaries, exercises, problems and case studies
Accompanied by a complete ancillary package, including an instructor's manual and student workbook
Provides a consolidated, in-depth review of the fundamentals of accounting
Insight into the analysis and interpretation of financial statements
Statements of cash flows discussed alongside working capital
A cost-volume-profit approach to decision making and cost management
Detailed focus on the operating budget and cash budgeting