How to Speak Human: A Practical Guide to Getting the Best from the Humans You Work With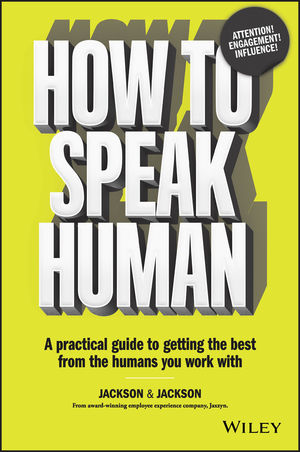 How to Speak Human: A Practical Guide to Getting the Best from the Humans You Work With
ISBN: 978-0-730-35954-8 August 2018 224 Pages
Description
The workplaces of today are vastly different from only a decade ago.
We're in the age of employee experience now, friends.
Yet despite the arrival of a new era heralding a shift in relationships and expectations, many organisations have failed to evolve. The result? Leaders have been left asking how to gain attention, engage and influence the people they work with. What they're really asking, though, is how to speak human.
How to Speak Human takes a practical approach to dealing with the communication challenges faced by today's workplaces. Although speaking human should come as naturally as nudity in nature — somehow it doesn't. Somewhere along the way, amidst the busyness, the business, the technology and the professionalism, it became harder to connect with the people around us. Harder to speak human, to get attention, to influence, to engage. We're up against a constantly changing and complex business landscape, the competition for talented people, a workforce comprising five very different generations and the looming spectre of artificial intelligence.
This comprehensive how-to hurtles headlong and enthusiastically into the fascinations of science and theories of human-centred communication. It draws on over a decade of award-winning work with savvy leaders from organisations around the world to share 11 strategies and 23 practical ideas for application, illustrated by real world stories.
Use the science of connection to create compelling communication
Discover how to translate mind-numbing complexity into captivating simplicity
Learn the shortcuts to hijacking attention, engaging and influencing others
Gone are the days of stiff, impersonal workplaces painted various shades of beige. Here and ahead lies a profound shift towards human, a fast-approaching future where people are celebrated. Not just customers or shareholders, but the vast majority of folk inside our organisations — the people who keep things moving.
Whether you're at the helm of a global organisation; a leader in a business looking to stay relevant; or a member of a small team, hungry to advance — this is a how-to for forward thinkers like you.
Table of contents
About the authors ix
Hoisting the banner for human xiii
How to speak human xxiii
How to speak whaaat? xxix
Curiosity The insatiable hunger of a curious mind 1
Anticipation The exquisite agony of anticipation 17
Surprise! The unanticipated delight of the unexpected 27
Visual The sensory superiority of visual 41
Beware … The insidious fog of habituation 57
Narratives The titillations of a well-told tale 65
Emotions The paradoxical logic of getting emotional 77
Humour The serious business of being funny 87
Caution … The complication of complexity 95
Words The power of using and choosing words wisely 107
Names The undeniable sweetness of a well-chosen name 117
Language The power of language to shift perception 127
Modes The perks of matching the mode to the message 149
Beware … The excuses for mediocrity 167
Time, tide and the inevitability of change 177
So… 181
Acknowledgements 183
Index 185