How to Succeed at the Medical Interview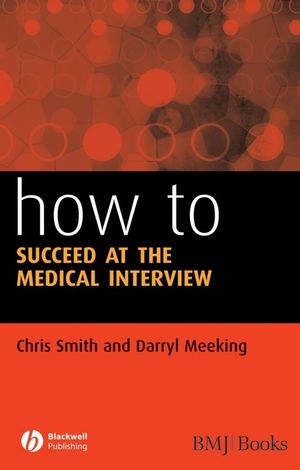 How to Succeed at the Medical Interview
ISBN: 978-1-444-35723-3 August 2011 Wiley-Blackwell 136 Pages
Description
Doctors are likely to undergo several interviews of different types during their career, and this new title in the popular 'How to' series aims to guide the medical professional through the steps necessary to thoroughly prepare for this competitive process.
Contents include:



Discussion of the different types of medical interview

How to prepare for interview

How to optimise your performance

Information about common questions and how best to answer them

Information about knowledge-based questions currently asked

Coverage of questions that test generic skills and how to answer them

How to prepare for competency-based assessments and tasks.
An ideal companion for all health professionals faced with an interview, How to Succeed at the Medical Interview will assist in building confidence and ensuring that candidates are as thoroughly prepared as possible.
Table of contents
Foreword.
Acknowledgements.
Introduction.
1 The medical interview.
2 Preparing for the interview.
3 Performing at the interview.
4 Common interview questions.
5 Interview questions that test your knowledge.
6 Interview questions that test your generic skills.
7 Competency-based tasks.
Index
Features
A thorough preparation for the UK Medical Interview whether it be for GP VTS schemes, hospital jobs, or specialist appointments


Written by doctors for doctors, with over 50 hot interview topics discussed in detail with suggested answers to questions

Includes contributions from experienced interviewers with tips such as what to wear and what questions to ask at the end of the interview

Saves candidates time on research in this climate of increased competition for medical jobs