Human Resources Management in the Hospitality Industry, 2nd Edition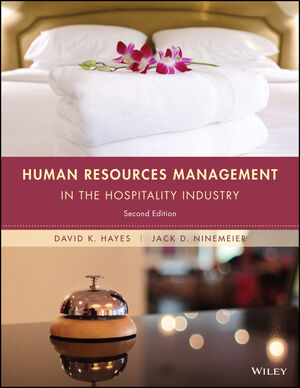 Human Resources Management in the Hospitality Industry, 2nd Edition
ISBN: 978-1-119-03086-7 February 2015 320 Pages
Description
Human Resources Management in the Hospitality Industry, 2nd Edition helps today's hospitality professional be an expert at managing many functions. In every segment of the hospitality industry, recruiting, selecting, orienting, training, and retaining outstanding staff members are always challenging tasks, but every manager must master them. Hospitality managers now need to be familiar with rising labor costs, increasing competition for quality staff, changing employees' attitudes, evolving guest expectations and a proliferation of new laws that impact human resources policies and activities.
Table of contents
One: Introduction to Human Resources in the Hospitality Industry
Two: The Legal Environment of Human Resources Management
Three: Human Resources Management: Policies and Procedures
Four: Employee On-Boarding: Recruitment and Selection
Five: Employee On-Boarding: Orientation and Induction        
Six: Planning Training Programs
Seven: Delivering and Evaluating Training Programs
Eight: Compensation Programs
Nine: Performance Management and Appraisal
Ten: Employee Health and Safety
Eleven: Critical Issues in Human Resources Management
Twelve: Human Resources in Evolving Hospitality Organizations
New To This Edition
Simplified Summary of Significant legislation Feature: To assist readers in recalling key features of important employment-related legislation introduced in applicable chapters, a new feature summarizing these key laws.
HR Management Impact on New Employees: This new feature addresses how the on boarding efforts of HR managers can directly affect their new employees.
HR Management in Action: In this exciting new feature, readers will learn about specific challenges HR managers frequently encounter at work as well as how these challenges are met. Placed near the beginning of each chapter, this new feature, developed with the assistance of HR managers currently working in the hospitality industry, helps readers better understand the things HR managers must know and do to succeed in their jobs.
Features
It's the Law! Reinforcing its emphasis on the legal aspects of HR management, this feature is included in every chapter. It explains, in detail, how current or proposed legislation directly affects the topics presented and the resulting HR management-related actions that are, and are not, legally allowable or advisable.
Chapter Outline. The two-tier chapter outline at the beginning of each chapter shows the context for each topic and provides a simple way to quickly find material within the chapter.
Checklist of Learning Objectives. This list of measurable learning objectives helps readers anticipate the skills or knowledge they will acquire upon completing the chapter.
Impact on HR Management. Each chapter utilizes this short feature to explain, in clear terms and before any content is presented, exactly why the chapter's topic is important. This feature makes it easy for readers to see what the chapter is about and what information they will gain by read-ing it.
HR Terms. As is true with many areas of specialization within hospitality management, HR managers speak their own language. In recognition of this fact, more than 300 special HR-related terms are defined within the text at the point in which they are first used. An alphabetical glossary of these terms is available on the text's Web site: www.wiley.com/college/hayes