Liquid Modernity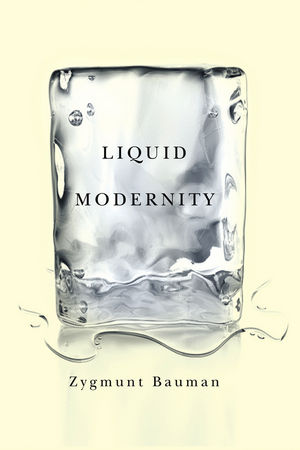 Liquid Modernity
ISBN: 978-0-745-62409-9 March 2000 Polity 240 Pages
Description
In this new book, Bauman examines how we have moved away from a 'heavy' and 'solid', hardware-focused modernity to a 'light' and 'liquid', software-based modernity. This passage, he argues, has brought profound change to all aspects of the human condition. The new remoteness and un-reachability of global systemic structure coupled with the unstructured and under-defined, fluid state of the immediate setting of life-politics and human togetherness, call for the rethinking of the concepts and cognitive frames used to narrate human individual experience and their joint history.
This book is dedicated to this task. Bauman selects five of the basic concepts which have served to make sense of shared human life - emancipation, individuality, time/space, work and community - and traces their successive incarnations and changes of meaning.

Liquid Modernity concludes the analysis undertaken in Bauman's two previous books Globalization: The Human Consequences and In Search of Politics. Together these volumes form a brilliant analysis of the changing conditions of social and political life by one of the most original thinkers writing today.
Table of contents
Foreword: On Being Light and Liquid.
1. Emancipation.
2. Individuality.
3. Time/Space.
4. Work.
5. Community.
Afterthoughts: On Writing; on Writing Sociology.
Notes.
Index.
Reviews
"Bauman on a bad day is still far more stimulating than most contemporary social thinkers. He is the Georg Simmel of our age, and his books and essays will be read when contemporary exponents of social arithmetic are long forgotten."
Times Higher Education Supplement
"Liquid Modernity is Zygmunt Bauman's term for the present condition of the world as contrasted with the 'solid' modernity that preceded it ... He is a vivid and original writer with an eye for the revealing personal experience.'

Dennis Wrong, Times Literary Supplement

"Zygmunt Bauman can be counted among those giants of sociology - C. Wright Mills, Émile Durkheim, Max Weber - who are bound together not by a shared ideological or disciplinary alignment, but by a profound and moral passion. I do not employ the term "moral" in the commonly used sense of "judgmental", but to describe their ability to define the spirit of the age, to ask cutting questions about society's direction, warn of dangers and perceive opportunities."

Contemporary Politics

"These books mark an important advance in Bauman's project. He seems to be trying to bring the intellectuals back into the game, twitting them for their passivity. Bauman wants social critics to take a more active role, taking a lead by showing how the relationships between individuals and society and between the private and public spheres may be rearticulated and the spirit of the agora restored to social and political life."

British Journal of Sociology

"His work is essential reading for those political theorist who feel that part of their task is to elaborate relevant and compelling normative critique."

Contemporary Political Theory

"Bauman lucidly depicts what others call the 'postmodern situation' a term that he painstakingly avoids, and his analysis is important for anyone interested in cultural criticism"

Caterina Norlin-Brage, Religious Studies Review

"One of post-modernity's great commentators."

Pete Ward, Church Times
Features
* A major new book by one of the most original thinkers today.

* Develops a distinctive argument about the 'liquid' nature of modernity.

* Re-examines key concepts which look at the heart of orthodox accounts of the human condition, including the concepts of emancipation, individuality, work and community.

* This is the third volume in a trilogy which includes Globalization: The Human Consequences and In Search of Politics.