Marketing Your Small Business For Dummies, Australian and New Zealand Edition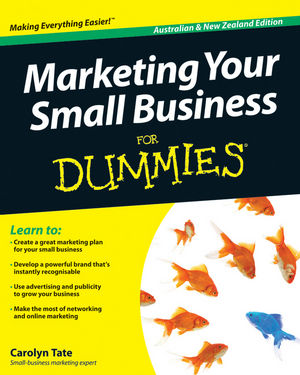 Marketing Your Small Business For Dummies, Australian and New Zealand Edition
ISBN: 978-1-742-16852-4 April 2010 400 Pages
Description
Created especially for the Australian customer!
Attract customers and ensure the ongoing success of your small business with this no-nonsense guide
Whether you own a bakery or a boutique, a plumbing or a finance business, this book gives you straightforward strategies to find more prospects, build your customer base and secure market share. Small-business guru Carolyn Tate empowers you to apply hundreds of high-impact and creative ways to market your business without breaking the bank.
Know your target market — identify your ideal customers, and what, how and why they buy
Develop business and marketing plans — learn how to create them and why they're so important
Build effective databases — develop a database that creates business for you, without the headaches
Solidify your branding — create a unique brand and keep it fresh and exciting
Understand the power of advertising — assess if it's right for your business and how to pick the right strategies
Master publicity — get your business in the media with the right message
Implement relationship marketing — develop and maintain networks to create new opportunities
Embrace websites and online marketing — build a website that drives customers to you, and use online tools and search engines to generate business
Introduction.
Part I: Entering the World of Marketing.
Chapter 1: Understanding the Marketing Process.
Chapter 2: Putting Customers First.
Chapter 3: Being Mindful of Market Forces.
Chapter 4: Failing to Plan is Planning to Fail.
Part II: Investing In Your Brand.
Chapter 5: Brand Basics.
Chapter 6: Creating Your Visual Brand Identity.
Chapter 7: Brand You.
Chapter 8: Creating a Grand Brand Experience.
Part III: Getting Your Business in the Media.
Chapter 9: Mastering the Basics of Advertising.
Chapter 10: Developing Your Advertising Plan.
Chapter 11: Getting the Message Out.
Chapter 12: Mastering the Basics of Publicity.
Chapter 13: Planning for Publicity Success.
Part IV: Relationship Marketing.
Chapter 14: Introducing Relationship Marketing.
Chapter 15: Putting Relationship Marketing to Work.
Part V: Marketing Online.
Chapter 16: Discovering e-Marketing.
Chapter 17: Developing a Great Website.
Chapter 18: Driving Traffi c to Your Website.
Part VI: The Part of Tens.
Chapter 19: Ten Hypothetical Answers to the Customer Value Proposition Model.
Chapter 20: Ten (or So) Marketing Do's and Don'ts.
Chapter 21: Ten Nifty Marketing Ideas That Won't Bankrupt You.
Part VII: Appendixes.
Appendix A: Marketing Plan Template.
Appendix B: Marketing Budget Template.
Index.