Modern Styrenic Polymers: Polystyrenes and Styrenic Copolymers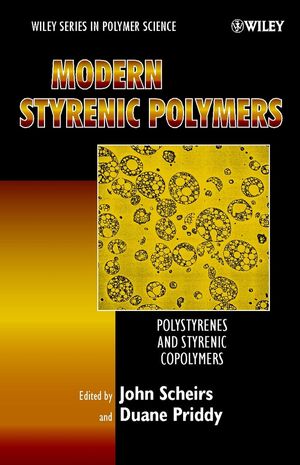 Modern Styrenic Polymers: Polystyrenes and Styrenic Copolymers
ISBN: 978-0-471-49752-3
Feb 2003
792 pages
Description
This title addresses the latest developments in the field, covering the major advances that have occurred over the past five years in the polymerization and structure of new generation polystyrenes that are broadening its scope of application.
It covers the advent of branched polystyrenes, syndiotactic polystyrene, high-molecular weight general purpose PS, styrenic interpolymers, and clear SBS copolymers
Presents voluminous research previously only reported at conferences in one reference
Unique coverage of a topic not found in the field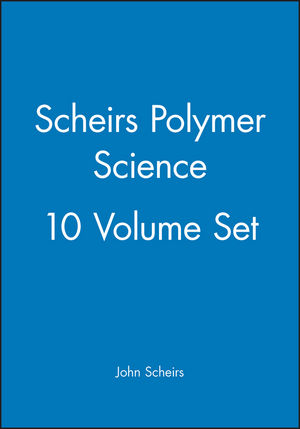 Contributors.
Series Preface.
Preface.
About the Editors.
I: INTRODUCTION TO STYRENIC POLYMERS.
Historical Overview of Styrenic Polymers (J. Scheirs).
Polystyrene and Styrene Copolymers - An Overview (N. Niessner and H. Gausepohl)
II: PREPARATION OF STYRENIC POLYMERS.
Commercial Processes for the Manufacture of Polystyrene (B. J. Meister and C. J. Cummings)
Approaches to Low Residual Polystyrene (D. B. Priddy).
Process Modelling and Optimization of Styrene Polymerization (J. Gao, K. D. Hungenberg and A. Penlidis).
Living Free Radical Polymerization of Styrene (A. Butté, G. Storti and M. Morbidelli).
Increasing Production Rates of High MW Polystyrene (B. Matthews and D. B. Priddy).
Preparation of Styrene Block Copolymers Using Nitroxide Mediated Polymerization (D. B. Priddy.).
III: MAJOR CLASSES OF STYRENIC POLYMERS.
Particle Foam Based on Expandable Polystyrene (EPS) (R.-D. Klodt and B. Gougeon).
Rigid Polystyrene Foams and Alternative Blowing Agents (K. W. Suh and A. N. Paquet).
Polystyrene Packaging Applications: Foam Sheet and Oriented Sheet (G. C. Welsh).
Preparation, Properties and Applications of High-impact Polystyrene (M. F. Martin, J. P. Viola and J. R. Wuensch).
Key Structural Features Impacting SAN Copolymer Performance (R. P. Dion and R. L. Sammler).
Rubber Particle Formation in Mass ABS (G. Bouquet).
High Heat Resistant ABS Technology (R. Vanspeybroeck, R. P. Dion and J. M. Ceraso).
Synthesis, Properties and Applications of Acrylonitrile-Styrene-Acrylate Polymers (G. E. McKee, A. Kistenmacher, H. Goerrissen and M. Breulmann).
IV: SYNDIOTACTIC POLYSTYRENE.
Synthesis of Syndiotactic Polystyrene (N. Tomotsu, M. Malanga and J. Schellenberg).
Characterization, Properties and Applications of Syndiotactic Polystyrene (K. Yamasaki, N. Tomotsu and M. Malanga).
Rubber Modification of Syndiotactic Polystyrene (G. E. McKee, F. Ramsteiner and W. Heckmann).
Polymeric Blends Based on Syndiotactic Polystyrene (L. Abis, R. Braglia, G. Giannotta and R. Pò).
V: STYRENIC BLOCK COPOLYMERS.
Styrenic Block Copolymer Elastomers (R. C. Bening, W. H. Korcz and D. L. Handlin, Jr).
Preparation, Properties and Applications of High Styrene Content Styrene-Butadiene Copolymers (D. L. Hartsock and N. E. Stacy).
VI: NOVEL POLYSTYRENES.
Hydrogenated Polystyrene: Preparation and Properties (S. F. Hahn).
Branched Polystyrene (K. Koppi and D. B. Priddy).
'Super Polystyrene' - Styrene-Diphenylethylene Copolymers (G. E. McKee, F. Ramsteiner, W. Heckmann and H. Gausepohl).
Ethylene-Styrene Copolymers (Y. W. Cheung and M. J. Guest).
VII: PROPERTIES OF STYRENIC POLYMERS.
Fracture Behaviour of High-impact Polystyrene and Acrylonitrile-Butadiene-Styrene (T. Vu-Khanh).
Dynamic Mechanical Behaviour of Atactic Polystyrene, High-impact Polystyrene and Other Styrenic Polymers (S. N. Goyanes and G. H. Rubiolo).
Flame-retardant Polystyrene: Theory and Practice (B. King).
Photochemical Degradation of Styrenic Polymers (B. Mailhot, A. Rivaton and J. L. Gardette).
Analysis and Levels of Styrene Dimers and Trimers in Polystyrene Food Containers (H. Sakamoto).
Index.
"...useful for practicing polymer scientists and engineers who desire a wide-ranging resource on polystyrene materials...the brad range of subjects addressed support its use as a textbook for studying the general field of polymer science and engineering through the examination of a single material." (
Journal of the American Chemical Society
, Volume 126, 4741)
""...a wonderful book...this is a 'breath taking' accomplishment having great value to those involved with styrenics or having interest in styrenics..."" (Polymer News)