Music Education for the New Millennium: Theory and Practice Futures for Music Teaching and Learning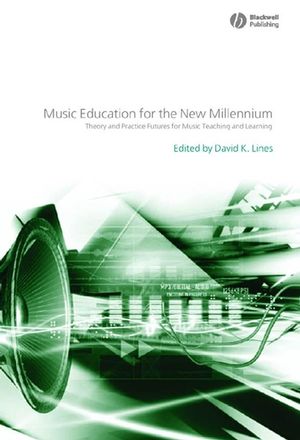 Music Education for the New Millennium: Theory and Practice Futures for Music Teaching and Learning
ISBN: 978-1-405-13658-7 February 2006 Wiley-Blackwell 160 Pages
Description
This volume challenges readers to think about what music means in contemporary society, and how music education can remain culturally relevant in the new millennium.


A collection of thought-provoking philosophical perspectives on music education.

Explores the changing ways in which music is being produced, disseminated and received.

Considers how current phenomena such as the commoditization of music, the use of new technologies, and access to hybrid music forms, relate to music education.

Covers themes such as pragmatism, performativity, cultural identity, emotion, autonomy and globalization.

Asks how music teaching and learning can remain culturally relevant.
Table of contents
Notes on Contributos.
1. Introduction: Music Education in Contemporary Culture. (David K. Lines).
2. Music and Music Education: Theory and praxis for 'making a difference'. (Thomas A. Regelski).
3. Music Education in Nihilistic Times. (Wayne Bowman).
4. Music Education and Cultural Identity. (Robert A. Davis).
5. Improvisation and Cultural Work in Music and Music Education. (David K. Lines).
6. Musical Meaning and Social Reproduction: A case for retrieving autonomy. (Lucy Green).
7. Musical Understanding, Musical Works, and Emotional Expression: Implications for education. (David J. Elliott).
8. The Wow Factor? A Comparative Study of the Development of Student Music Teachers' Talents in Scotland and Australia. (Alastair Mcphee, Peter Stollery, Ros Mcmillan).
9. Music Education, Performativity and Aestheticization. (Constantijn Koopman).
10. The Global Musical Subject, Curriculum and Heidegger's Questioning Concerning Technology. (Janet Mansfield).
Index.
Features


A collection of thought-provoking philosophical perspectives on music education

Explores the changing ways in which music is being produced, disseminated and received

Considers how current phenomena such as the commoditization of music, the use of new technologies, and access to hybrid music forms, relate to music education

Covers themes such as pragmatism, performativity, cultural identity, emotion, autonomy and globalization

Challenges readers to think about what music means in contemporary society

Asks how music teaching and learning can remain culturally relevant