Nutritional Management of Diabetes Mellitus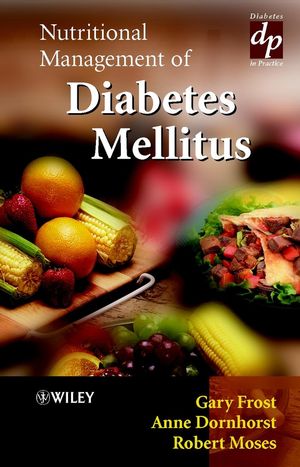 Nutritional Management of Diabetes Mellitus
ISBN: 978-0-471-49751-6 July 2003 280 Pages
Description
Diabetes mellitus is a common disorder where the body is no longer able to regulate blood glucose levels correctly owing to defects in insulin secretion or action. While some people require treatment with insulin, many are able to control their diabetes through management of diet, e.g. by decreasing the fat intake and increasing the amount of fibre.
This book provides an up-to-date review of the dietary management of diabetes looking at general topics, such as the metabolic principles of nutrition, as well as more specific topics, such as nutritional management of diabetic children, pregnant women and the elderly.
A specialist text on the nutritional management of diabetes
A practical book, useful in clinical practice
Written by well respected clinicians within the field
Table of contents
List of Contributors.
Introduction.
1. Nutritional Recommendations in Diabetes Management (Norma McGough).
2. Diabetes and Physical Activity (Pamela Dyson).
3. Counselling in Diabetes (Tracey Parkin).
4. Dietician and Diabetic: Thoughts on Working and Living with Diabetes (Jo Sutton).
5. The Nutritional Management of Children's Diabetes (Sheridan Waldron, Peter Swift, Lindsey Oliver and Deborah Foote).
6. An Introduction to Type 2 Diabetes (Gary Frost).
7. The Dietary Management of Diabetic Pregnancies (Anne Dornhorst and Gary Frost).
8. Obesity and Diabetes (Karen Slevin, Jacqueline Cleator and John Wilding).
9. Nutritional Management of Cardiac Risk Factors in Type 2 Diabetes (Audrey Brynes).
10. Nutritional Management of the Elderly Person with Diabetes (Mary Hickson and Lucy Wright).
11. The Role of Carbohydrate in the Management of Diabetes (Janette C Brand-Miller and Susanna H A Holt).
12. Effects of Variations in Amount and Kind of Dietary Fat and Carbohydrate in the Dietary Management of Type 2 Diabetes (Gerald M Reaven).
13. Diabetes and Alcohol (Linda Carter and Joanne Boyle).
14. Inpatient Nutritional Support of Sick Patients with Diabetes (Hilary Peake).
15. Diabetes and Renal Replacement Therapy (Marie Kelly and Thushara Dassanayake).
16. Nutritional Management of Diabetic Renal Transplant Recipients (Barbara Engel).
Index.
Reviews
"...good evidence base...appeal to those working in the field...useful book to have on the bookshelves..." (Practical Diabetes International, Vol 21(5), June 2004)