On Ethics and Economics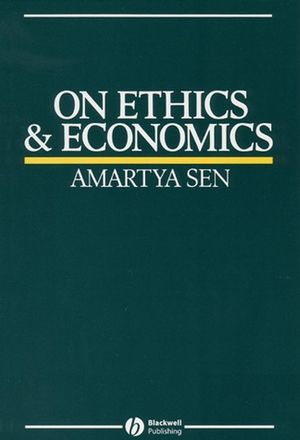 On Ethics and Economics
ISBN: 978-0-631-16401-2 February 1989 Wiley-Blackwell 148 Pages
Description
In this elegant critique, Amartya Sen argues that welfare economics can be enriched by paying more explicit attention to ethics, and that modern ethical studies can also benefit from a closer contact with economies. He argues further that even predictive and descriptive economics can be helped by making more room for welfare-economic considerations in the explanation of behaviour.
Table of contents
Foreword: John M. Letiche.
Preface.
1. Economic Behaviour and Moral Sentiments.
Two Origins.
Achievements and Weakness.
Economic Behaviour and Rationality.
Rationality as Consistency.
Self-interest and Rational Behaviour.
Adam Smith and Self-interest.
2. Economic Judgements and Moral Philosophy.
Interpersonal Comparisons of Utility.
Pareto Optimality and Economic Efficiency.
Utility, Pareto Optimality and Welfarism.
Well-being and Agency.
Valuing and Value.
Agency and Well-being: Distinction and Interdependence.
Utility and Well-being.
Achievements, Freedom and Rights.
Self-interest and Welfare Economics.
Rights and Freedom.
3. Freedom and Consequences.
Well-being, Agency and Freedom.
Plurality and Evaluation.
Incompletenes and Overcompleteness.
Conflicts and Impasse.
Rights and Consequence.
Consequential Assessment and Deontology.
Ethics and Economics.
Welfare, Goals and Choices.
Conduct, Ethics and Economics.
References.
Author Index.
Subject Index.
Reviews
"Sen is one of the true pioneers in modern economics. He has, in effect, created a new branch of the subject... which might one day change mainstream economics beyond recognition."
The Economist
"Professor Sen's thoughts on both philosophy and economics are not only highly original but they are ... presented with a compelling and consummate literary skill." Times Higher Education Supplement
"Sen has never acknowledged a boundary between economics and ethics. He brings philosophical arguments to bear where they are needed in economics, and combines them skillfully with formal analysis." London Review of Books