Origin and Evolution of Tropical Rain Forests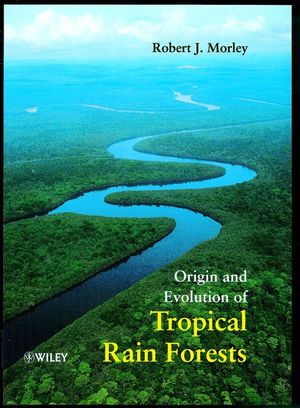 Origin and Evolution of Tropical Rain Forests
ISBN: 978-0-471-98326-2 February 2000 378 Pages
Description
Provides the first comprehensive review of the evolution of tropical rain forests on a continent by continent basis, within an up-to-date tectonic, palaeogeographical and palaeoclimatic framework primarily by reference to the record of fossil pollens and spores.

Although tropical rain forests form the world's most species-rich ecosystems, their origin and history remain unclear, except on the very short timescale of the last 40,000 years or so. This book looks at their history on a long term geological and global timescale, commencing with the origin of the angiosperms over 100 million years ago which today overwhelmingly dominate the forests. It also establishes the age of the great tropical rain forest blocks and identifies the world s oldest tropical rain forests. Finally, it compares 20th Century tropical rain forest destruction with prehistoric forest clearance in temperate regions, and looks for analogues of the present phase of destruction within the geological record before considering long term implications of total rain forest destruction.

The book draws on previously unpublished palynological data generated for petroleum companies during the course of hydrocarbon exploration programmes.

It will be of interest to all concerned with tropical rain forests, especially biologists, botanists, ecologists, and students of evolution. It will be invaluable for postgraduates, and advanced undergraduates, as well as stratigraphers, palaeobotainists, palynologists, and petroleum geologists.
Present-Day Tropical Rain Forests.

Geological Time Framework, Palaeoecological and Palaeoclimate Definitions.

Geological Evidence for Rain Forests.

Early Angiosperm History and the First Megathermal Rain Forests.

South and Middle America.

Africa.

India.

Southeast Asia and the Eastern Pacific.

Australasia.

Northern Hemisphere Megathermal Rain Forests.

Interplate Dispersal Paths and Land Bridges.

Synthesis.

The Future of Rain Forests?

Appendix.

Glossary.

References.

Indexes.
"No other book contains such an in-depth study of the history and evolution of rain forests set in a geological framework...this will stand as a definitive treatise on the subject." (Biologist, November 2000)
"This book gives an unsurpassed state of the art account and should be used and read by all students of tropical rain forests, vegetation history and history of Angiosperms" (Blumea, Vol 44/2, 1999)
"...will be of interest to all concerned with tropical rain forests." (Bois et Forest des Tropiques, Vol 265, 2000)
"...The quality and the high number of illustrations ...as well as a well-selected, although not exhaustive, bibliography, makes this book enjoyable to read." (Journal of Quaternary Science, July 2003)