PHR / SPHR Professional in Human Resources Certification Practice Tests Digital Access Code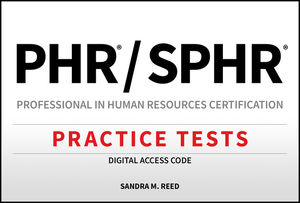 PHR / SPHR Professional in Human Resources Certification Practice Tests Digital Access Code
ISBN: 978-1-119-42694-3 October 2018
Description
PHR/SPHR Professional in Human Resources Certification Practice Tests is an invaluable resource for candidates seeking a comprehensive review of the exam material. Fully aligned with the exam content outline and the most recent HRBoK (Human Resources Body of Knowledge), these challenging tests help you track your preparation progress and gauge your level of readiness before the big day. Six full length practice tests plus two bonus practice exams can be taken again and again, timed or untimed, until you are 100 percent comfortable with your performance.
The Human Resources Certification Institute (HRCI) offers the PHR and SPHR certifications to validate competence based on standards set by workforce peers. The credentialing process examines candidates' abilities in Business Management and Strategy; Workforce Planning and Employment; Human Resources Development; Compensation and Benefits; Employee and Labor Relations; and Risk Management, with exam content regularly updated to reflect current best practices. These practice tests cover everything you need to know for an exceptionally thorough preparation experience.
Digital Access Codes (DAC) provide 12 months of access to the Sybex interactive learning environment. The browser-based test engine works on multiple platforms including most modern PCs and mobile devices.
To access the test bank:
Go to http://www.wiley.com/go/sybextestprep
Scroll through the product listing to locate the product you've purchased
Click on the 'Register or Login" link
Login to your existing Wiley Test Bank account using your email and password. If you do not already have a Wiley Test Bank account, click the "Create Account" link and follow the directions to create one
Activate your product by entering your First Name, Last Name, Email Address, and Product Access Code or PIN
Click Submit