Perioperative Medicine for the Junior Clinician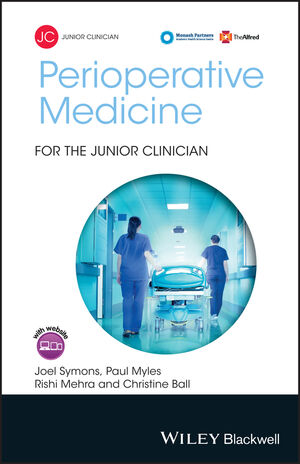 Perioperative Medicine for the Junior Clinician
ISBN: 978-1-118-77916-3
Oct 2015, Wiley-Blackwell
552 pages
Description
Perioperative Medicine for the Junior Clinician is the first easy-to-read resource, featuring a digital component, on how to manage a diverse range of patients in the perioperative period, providing up-to-date practical knowledge and advice from a broad range of medical specialists caring for surgical patients.
Perioperative Medicine for the Junior Clinician provides a guide to perioperative care, covering principles and practices of care; risk assessment; laboratory investigations; medication management; specific medical conditions and complications; postoperative care and pain management. It also features bite-size videos explaining the key concepts, as well as case studies, investigations and quizzes.
Ideal for final year medical students and junior clinicians, this digital and print resource will be an invaluable tool when working in this multidisciplinary, team-based specialty.
Perioperative Medicine for the Junior Clinician:
Is based on a sell-out course run at the Alfred Hospital and Monash University in Melbourne, Australia
Is a practical resource available in a flexible and portable content
Features bite-size videos which further explain concepts in the written text, and clinically relevant case studies, all found on the companion website
Is structured around guidelines and protocols
The video materials, case studies, self-assessment quizzes and fully explained answers can be viewed on the companion website at www.wiley.com/go/perioperativemed
Contributors (Online Only)
Foreword xxiv
Michael (Monty) Mythen
Preface xxv
Paul Myles
Acknowledgements xxvii
Abbreviations (Online Only)
About the companion website xxxvii
Part I Introduction 1
1 The role of the perioperative medicine physician 3
Mike Grocott
2 The role of the preadmission clinic 6
James Tomlinson
3 Consent 11
Justin Burke
4 The early postoperative round 15
Debra Devonshire and Paul Myles
5 Quality improvement and patient safety 18
Stuart Marshall
6 Intraoperative and postoperative monitoring 22
Philip Peyton
7 Drugs used for anaesthesia and sedation 28
Alex Konstantatos
8 The recovery room 33
Arvinder Grover
9 Perioperative genomics 38
Christopher Bain and Andrew Shaw
Part II Preoperative risk assessment 43
10 Perioperative medication management 45
Paul Myles
11 The cardiac patient for non]cardiac surgery 51
Howard Machlin
12 Cardiovascular risk assessment in cardiac surgery 57
Christopher Duffy
13 Preoperative cardiac testing 61
Joshua Martin and Peter Bergin
14 Airway assessment and planning 68
Pierre Bradley and Joel Symons
15 Pulmonary risk assessment 74
David Daly
16 Preoperative cardiopulmonary exercise testing 79
Chris Snowden and Serina Salins

17 Anaemia 85
Amanda Davis and Angus Wong
18 Central nervous system risk assessment 90
Richard Stark
19 Risk assessment for perioperative renal dysfunction 94
David McIlroy
20 Medical futility and end]of]life care 98
Mark Shulman and Matthew Richardson
21 The surgical safety checklist 102
Pedro Guio]Aguilar and Russell Gruen
Part III Perioperative investigations 107
22 Preoperative investigations (non]cardiac surgery) 109
Arvinder Grover
23 Postoperative investigations 114
Arvinder Grover
Part IV Specific medication management and prophylaxis 119
24 Thromboprophylaxis 121
Amanda Davis
25 Anticoagulants and antiplatelet agents 128
David Daly
26 Diabetes medication 136
Shane Hamblin
27 Steroid medication 144
Shane Hamblin
28 Opioids and opioid addiction 148
Meena Mittal, Nicholas Christelis and David Lindholm
29 Antibiotic prophylaxis 154
Allen Cheng
30 Antibiotic prophylaxis for endocarditis 158
Denis Spelman
Part V Perioperative management of organ dysfunction and specific population groups 163
31 Coronary artery disease and coronary stents 165
Sesto Cairo
32 Hypertension 170
Steven Fowler and Terry Loughnan
33 Arrhythmias 175
Andrew Robinson
34 Pacemakers and implanted defibrillators 182
Andrew Robinson
35 Heart failure 188
Vanessa van Empel and Dion Stub
36 Aortic stenosis 193
Rishi Mehra
37 Pulmonary hypertension 198
Mark Buckland
38 Endocarditis, myocarditis and cardiomyopathy 203
Enjarn Lin
39 Acute lung injury 212
Paul Nixon and David Tuxen
40 Obstructive sleep apnoea 217
Matthew Naughton
41 Asthma 223
Alan Young
42 Chronic obstructive pulmonary disease 229
Jeremy Wrobel and Trevor Williams
43 Non]small cell lung cancer 235
Robert Stirling
44 Gastrointestinal disease 242
Lauren Beswick and William Kemp
45 Hepatic disease 245
Lauren Beswick and William Kemp
46 Oliguria 249
Paul Myles
47 Acute kidney injury 254
Lloyd Roberts and Owen Roodenburg
48 Renal transplantation 259
Solomon Menahem
49 Diabetes mellitus 264
David Story
50 Thyroid disorders 268
Shane Hamblin
51 Parathyroid disorders 272
Shane Hamblin
52 Adrenal disorders 277
Jonathan Serpell
53 Carcinoid syndrome 281
Alexandra Evans
54 Intracranial surgery 286
Hilary Madder
55 Carotid surgery 292
Matthew Claydon
56 Epilepsy 301
Richard Stark
57 Neuromuscular disease 304
Erik Andersen and Andrew Kornberg
58 Trauma: pretheatre management 309
John Moloney
59 Traumatic brain injury 314
Winifred Burnett
60 Maxillofacial injuries 322
Joel Symons and Charles Baillieu
61 Spinal injuries (excluding cervical spine) 329
Susan Liew
62 Cervical spine injuries 337
Peter Hwang and Jin Tee
63 Chest injuries 343
Silvana Marasco
64 Abdominal injuries 349
Katherine Martin
65 Burns 354
Jamie Smart
66 Bleeding disorders 360
Paul Coughlan
67 Human immunodeficiency virus infection 366
Anna Pierce
68 Exposure to blood]borne viruses 370
Anna Pierce
69 The patient with psychiatric illness 374
Steven Ellen and James Olver
70 Obstetric patients having non]obstetric surgery 377
Maggie Wong
71 The elderly patient 382
Yana Sunderland
72 Allergies and anaphylaxis 386
Helen Kolawole
73 Obesity 390
Jennifer Carden
74 Goal]directed therapy 395
Andrew Toner and Mark Hamilton
75 Fluids and electrolytes 400
David Story
76 Electrolyte abnormalities 404
Lloyd Roberts and Carlos Scheinkestel
77 Blood transfusion 410
Amanda Davis
78 Organ donation 416
Steve Philpot and Joshua Ihle
Part VI Early postoperative care 421
79 Postoperative nausea and vomiting 423
Joel Symons
80 Postoperative fluid therapy 430
Dashiell Gantner
81 Ventilation strategies 435
John Botha
82 Sepsis and the inflammatory response to surgery 440
Tomás Corcoran and Kajari Roy
83 Nutritional support 445
Craig Walker
84 Postoperative surgical complications 449
Katherine Martin
85 Postoperative chest pain 453
Shane Nanayakkara and Peter Bergin
86 Postoperative shortness of breath 459
KJ Farley and Deirdre Murphy
87 Postoperative hypotension 467
Steven Fowler
88 Myocardial injury after non]cardiac surgery 472
Fernando Botto and PJ Devereaux
89 Aspiration 476
Alan Kakos
90 Postoperative delirium and postoperative cognitive dysfunction 480
Brendan Silbert and Lisbeth Evered
91 Postoperative hyperthermia 485
Glenn Downey
92 Perioperative hypothermia 493
John Monagle and Shashikanth Manikappa
Part VII Pain management 499
93 Acute pain 501
Alex Konstantatos
94 Neuropathic pain 507
Tim Hucker
95 The chronic pain patient 511
Carolyn Arnold
Perioperative Medicine for the Junior Clinician is a succinct, high-yield entry point into perioperative health. Written primarily by Australian clinicians from a wide number of specialties and institutions, the book provides an overview of key topics in perioperative medicine. whether used as a primary text for medical students on their clinical anesthesia or surgery rotations, or for practicing clinicians as an on-the-fly reference, the book meets its proposed purpose of informing on the assessment of perioperative patient care issues and treatment....In summary, Perioperative Medicine for the Junior Clinician is a concise primer of perioperative medicine, and it provides a practical resource for many clinicians and allied health personnel who care for patients in the surgical pathway. (Anesthesia & Analgesia- Sept 2016).