Physics 1 Preliminary Course and eBookPLUS (Online Purchase), 3rd Edition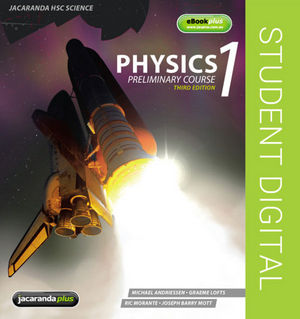 Physics 1 Preliminary Course and eBookPLUS (Online Purchase), 3rd Edition
ISBN: 978-1-742-16404-5
Sep 2009, Jacaranda
400 pages
Description
Physics 1 Preliminary Course 3E eBookPLUS is an electronic version of the student textbook as well as a complementary set of targeted digital resources. These flexible and engaging ICT activities are available to you online at the JacarandaPLUS website (www.jacplus.com.au).

Your eBookPLUS resources include:
• the entire student textbook in electronic format
• HTML links to other useful support material on the internet
• Word documents designed for easy customisation and editing
• interactive activities and a wealth of ICT resources

 
What is onlinepurchase?
Onlinepurchase is a Jacaranda digital only product.
Following payment you will receive a registration code via email.
Go to www.jacplus.com.au to register your code and access your digital resource.



Click to view Physics 1 Preliminary Course 3E Textbook & eBookPLUS.

 

 
Chapter 1: Waves: Movers of Energy
Chapter 2: Sound is a Wave
Chapter 3: Electromagnetic Waves and Communication
Chapter 4: Reflection and Refraction of Electromagnetic Waves
Chapter 5: Discovery and Development of Electrical Energy
Chapter 6: Electric Charges, Fields and Currents
Chapter 7: The Household Electricity Supply
Chapter 8: Using Electricity in the Home
Chapter 9: Describing Movement
Chapter 10: Force and Newton's Law of Motion
Chapter 11: Mechanical Interactions
Chapter 12: The Big-Bang Cosmology
Chapter 13: Star Light, Star Bright
Chapter 14: The Sun-Earth Connection