Place: A Short Introduction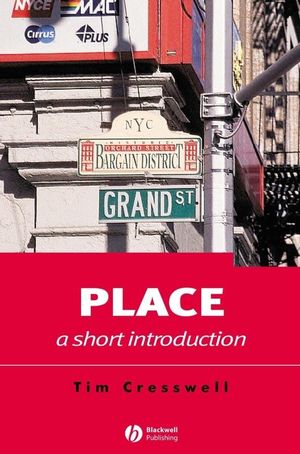 Place: A Short Introduction
ISBN: 978-1-405-10671-9 April 2004 Wiley-Blackwell 168 Pages
Description
This text introduces students of human geography to the fundamental concept of place, marrying everyday uses of the term with the complex theoretical debates that have grown up around it.
A short introduction to one of the most fundamental concepts in human geography
Marries everyday uses of the term "place" with the more complex theoretical debates that have grown up around it
Makes the debates intelligible to students, using familiar stories as a way into more abstract ideas
Excerpts and discusses key papers on place by Doreen Massey and David Harvey
Considers empirical examples of ways in which the concept of place has been used in research
Teaching and learning aids include an annotated bibliography, lists of key readings and texts, a survey of web resources, suggested pedagogical resources and possible student projects
Table of contents
List of Figures ix
Series Editors' Preface xi
Acknowledgements xiii
1 Introduction: Defining Place 1
Space and Place 8
Place and Landscape 10
Place as a Way of Understanding 11
The Remainder of the Book 12
2 The Genealogy of Place 15
Regional Geography 16
Discovering Place: Humanistic Geography 18
Place as Home 24
Radical Human Geography and the Politics of Place 26
Place as 'Being-in-the-World' versus Place as Social Construct 29
Place, Practice and Process 33
Place, Openness and Change 39
The End of Place? 43
Conclusion: Versions of Place 49
3 Reading 'A Global Sense of Place' 53
Historial Context 53
Harvey on Place 55
A Global Sense of Place 63
Beyond Reactionary and Progressive Senses of Place 75
Conclusions 79
4 Working with Place 81
Creating Places 82
In Place/Out-of-Place: Anachorism 102
Conclusions 122
5 Place Resources 125
Key Books on Place 125
Key papers on Place 130
Introductory Texts on Place 132
Other Books and Papers on Place 132
Other Approaches to Place: Ecology, Planning, Architecture 134
Key Journals 136
Web Resources 138
Student Projects and Exercises 139
Bibliography 145
Index 151
Reviews
"This is a truly wonderful book. It is short but not trite or superficial. It is in depth without being dense. It is timely without ignoring classic issues and debates. There is a clear pedagogy here, which is often missing in texts, and it is well written by an outstanding geographer, and so I predict this book will sell very well indeed."
Michael Brown, University of Washington
<!--end-->
"The idea of place lies at the heart of most significant geographical issues, yet place can often be a difficult and highly contested notion. There is no more authoritative writer on place than Tim Cresswell, and here he presents a formidable multifaceted introduction...which should be read by every student of human geography." Paul Cloke, Bristol University
Features
A short introduction to one of the most fundamental concepts in human geography
Marries everyday uses of the term "place" with the more complex theoretical debates that have grown up around it
Makes the debates intelligible to students, using familiar stories as a way into more abstract ideas
Excerpts and discusses key papers on place by Doreen Massey and David Harvey
Considers empirical examples of ways in which the concept of place has been used in research
Teaching and learning aids include an annotated bibliography, lists of key readings and texts, a survey of web resources, suggested pedagogical resources and possible student projects