Poorly Made in China: An Insider's Account of the China Production Game, Revised and Updated Edition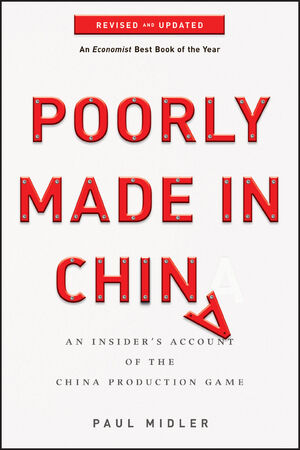 Poorly Made in China: An Insider's Account of the China Production Game, Revised and Updated Edition
ISBN: 978-0-470-92807-3 December 2010 272 Pages
Description
An insider reveals what can—and does—go wrong when companies shift production to China
In this entertaining behind-the-scenes account, Paul Midler tells us all that is wrong with our effort to shift manufacturing to China. Now updated and expanded, Poorly Made in China reveals industry secrets, including the dangerous practice of quality fade—the deliberate and secret habit of Chinese manufacturers to widen profit margins through the reduction of quality inputs. U.S. importers don't stand a chance, Midler explains, against savvy Chinese suppliers who feel they have little to lose by placing consumer safety at risk for the sake of greater profit. This is a lively and impassioned personal account, a collection of true stories, told by an American who has worked in the country for close to two decades. Poorly Made in China touches on a number of issues that affect us all.
Table of contents
Foreword (
ArthurWaldron).
Introduction.
CHAPTER 1 Vanishing Act.
CHAPTER 2 Trouble Is My Business.
CHAPTER 3 "All We Need Is Your Sample"
CHAPTER 4 Vice President of Disadvantaged Neighborhoods.
CHAPTER 5 "I Do Now".
CHAPTER 6 Lurid Carnival of Global Commerce.
CHAPTER 7 And That's a Good Thing.
CHAPTER 8 Grains of Toil.
CHAPTER 9 The China Game.
Chapter 10 The Seven Steps of Problem Solving.
CHAPTER 11 Counterfeit Culture.
CHAPTER 12 No Animal Testing.
CHAPTER 13 Joint Venture Panacea.
CHAPTER 14 Take the Long Way Home.
CHAPTER 15 Lucky Diamonds.
CHAPTER 16 Trophy Trash.
CHAPTER 17 "You Heard Me Wrong".
CHAPTER 18 "Price Go Up!"
CHAPTER 19 You Wouldn't Want to Be There.
CHAPTER 20 Of Course, You Would Think So.
CHAPTER 21 The New Factory.
CHAPTER 22 Profit Zero.
Afterword.
Acknowledgments.