Rebuilding Shattered Lives: Treating Complex PTSD and Dissociative Disorders, 2nd Edition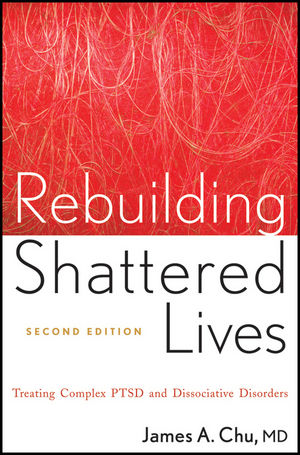 Rebuilding Shattered Lives: Treating Complex PTSD and Dissociative Disorders, 2nd Edition
ISBN: 978-0-470-76874-7 March 2011 384 Pages
Description
Children, adolescents, and adults who experience "developmentally adverse interpersonal trauma are at risk not only for posttraumatic stress disorder (PTSD) but also for other anxiety, affective, addictive, conduct, eating, psychotic personality disorders, as well as for retraumatization. Now in an updated Second Edition, this book describes the theoretical constructs of how complex trauma-related clinical syndromes evolve and present in adult patients, integrating theories concerning posttraumatic stress disorder, dissociation and personality development. This book is an authoritative clinical guide to the treatment of patients with complex posttraumatic and dissociative disorders.
Table of contents
Foreword.
Introduction.
Part I The Nature and Effects of Childhood Abuse.
1 Trauma and Dissociation: 30 Years of Study and Lessons Learned Along the Way.
2 Complex PTSD: The Effects of Chronic Trauma and Victimization.
3 Falling Apart: Dissociation and the Dissociative Disorders.
4 Derailed: Childhood Trauma, Attachment and the Development of the Self.
5 The Memory Wars: The Nature of Traumatic Memories of Childhood Abuse.
Part II Phase-Oriented Treatment for Complex PTSD.
6 The Therapeutic Roller Coaster: Phase-Oriented Treatment for Complex PTSD.
7 Staying Safe: The Paradox of Self-Care.
8 Containment: Controlling Posttraumatic and Dissociative Symptoms.
9 The Therapeutic Dance: Relational Dilemmas in Treating Complex PTSD.
10 The "Impossible" Patient: Chronic Disempowerment.
11 Good Fences Make Good Neighbors: Maintaining the Treatment Frame.
Part III Special Topics in Treatment of Complex Trauma-Related Disorders.
12 The Rational Treatment of Dissociative Identity Disorder.
13 Managing Crisis: Acute Care and Hospitalization.
14 Psychopharmacology for Trauma-Related Disorders.
15 Controversies and Future Directions in the Field of Trauma and Dissociation.
Afterword: Why We Do Th is Work.
Appendix 1: The Dissociative Experiences Scale (DES and DES-T).
Appendix 2: The Somatoform Dissociation Questionnaire (SDQ-20 and SDQ-5).
Appendix 3: The Multidimensional Inventory of Dissociation (MID).
References.
Author Index.
Subject Index.