Staying with Conflict: A Strategic Approach to Ongoing Disputes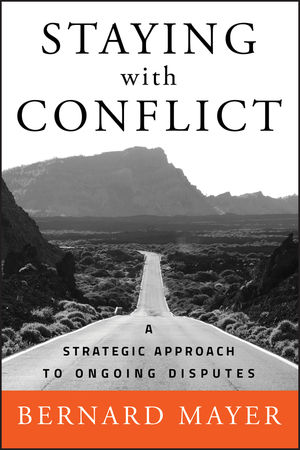 Staying with Conflict: A Strategic Approach to Ongoing Disputes
ISBN: 978-0-470-48887-4 January 2009 Jossey-Bass 320 Pages
Description
Winner of the 2009 CPR Award for Outstanding Book
In this groundbreaking book, Bernard Mayer, a pioneer in the field of conflict resolution, offers a new paradigm for dealing with long-term disputes. Mayer explains that when dealing with enduring conflict, mediators and other conflict resolution specialists need to move past the idea of how quickly they can resolve the conflict. Instead, they should focus on how they can help people prepare to engage with an issue over time. Once their attention is directed away from a speedy resolution to a long-term approach, new avenues of intervention become apparent. 
Preface.
1. A New Direction for the Conflict Field.
2. Conflict and Engagement.
3. Escaping the Avoidance Trap.
4. Working the Conflict Narrative.
5. Communicating in Enduring Conflict.
6. Using Power and Escalation.
7. Agreements in Ongoing Conflict.
8. Taking a Sustainable Approach to Enduring Conflict.
9. Conflict Specialists and Enduring Conflict.
Epilogue: The Dynamic Nature of Enduring Conflict.
References.
About the Author.
Index.
"I picked up Bernard Mayer's new book last spring, and here is the bottom line: its impact on my practice was instant…What is more, the impact has been enduring. It has changed how I think about and talk about the work I do…."
— Sheila Heen in Negotiation Journal, January 2010