The Blended Learning Book: Best Practices, Proven Methodologies, and Lessons Learned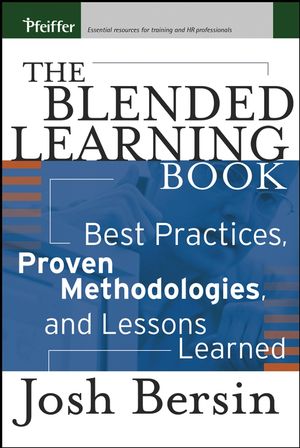 The Blended Learning Book: Best Practices, Proven Methodologies, and Lessons Learned
ISBN: 978-0-787-97296-7
Sep 2004, Pfeiffer
352 pages
Description
The Blended Learning Book is your user?s manual for implementing blended learning.  It gives you a guidebook to combining the latest technologies with traditional training models to create high-impact programs that drive superior business results (not just reduce costs). Filled with real-world examples and case studies from organizations such as Accenture, BI, Cisco, FedEx, Kinko?s, Grant-Thornton, IBM, Novell, the U.S. Navy, Verizon, and more, e-learning veteran Josh Bersin zeros in on What Works -- in all shapes and sizes of training departments from a variety of industries.
Introduction.
Chapter One : How Did We Get Here? The History of Blended Learning.
The Evolution of Technology-Based Training.
Instructor-Led Training.
Mainframe-Based Training.
Satellite-Based Live Video.
The PC CD-ROM Era.
Development of Learning Management Systems and AICC.
Enter Web-Based Training: The First Generation.
Today: A Wide Range of Options.
Lessons Learned in This Chapter.
Chapter Two: The Business of Blended Learning.
The Issue of Limited Resources.
Portfolio Management: Identifying High-Impact Investments.
Program Portfolio Allocation.
The Trap of "Cost Reduction" Programs.
High-Impact Programs.
Creating Measurable Goals.
Certification Programs: A Special Case.
Alignment with Business Objectives.
Blended Learning Is a Powerful Business Tool.
Lessons Learned in This Chapter.
Chapter Three: Blended Learning Design Concepts.
How Do People Learn?
The Goal of Mastery.
Six Modes of Learning.
Research Supports the Value of Experiential Learning.
Blending Works: Thompson Job Impact Study.
Cultural Goals: Socialization and Gaining Attention.
The Four Types of Corporate Training.
Tracking and Reporting as a Program Characteristic.
Lessons Learned in This Chapter.
Chapter Four: Proven Blended Learning Models.
The Two Approaches to Blended Learning.
Five Specific Blended Learning Models.
Lessons Learned in This Chapter.
Chapter Five: Eight Criteria for Selecting the Blending Model.
Criterion 1: Program Type.
Criterion 2: Cultural Goals.
Criterion 3: Audience.
Criterion 4: Budget.
Criteriion 5: Resources.
Criterion 6: Time.
Criterion 7: Learning Content.
Criterion 8: Technology.
Lessons Learned in This Chapter.
Chapter Six: Developing the Budget.
Sizing the Budget: Define the Size of the Problem.
Compute Cost Per Learner.
Economics of Blended Learning.
The Five Components of the Budget.
Real Costs: The Blended Learning: What Works Study.
Lessons Learned in This Chapter.
Chapter Seven: Media Selection: The Right Blend.
Review of the Selection Criteria.
The Sixteen Media Types.
When to Use Instructor-Led Training.
When to Use On-the-Job Exercises.
When to Use Live vs. Self-Study.
Program Type 1: Information Broadcast Programs.
Program Type 2: Critical Knowledge Transfer Programs.
Program Type 3: Skills and Competency Programs.
Program Type 4: Certified Skills and Competencies.
Media Selection.
Lessons Learned in This Chapter.
Chapter Eight: Content Development.
The Instructional Design Team.
Typical Content Development Challenges.
Developing a Program Plan.
The Instructional Plan.
Developing Standards.
Making Content Reusable.
e-Learning Content Development Process.
Working with SMEs.
Developing Webinar or Live e-Learning Content.
Development Tools.
Simulations.
Content Development Tips and Techniques.
Outsourcing Content Development.
Lessons Learned in This Chapter.
Chapter Nine: Learning Technology and Infrastructure.
Review of Blended Learning Infrastructure.
Using and Setting Standards.
How Much Learning Infrastructure You Need.
Do You Need an LMS at All?
Low-Cost LMS Approaches.
LCMS and Development Tools.
Lessons Learned in This Chapter.
Chapter Ten: Program Management: Launch, Rollout, Support.
The Challenge of Utilizing e-Learning.
Review the Program Schedule.
Program Launch.
Executive and Management Support.
Specific Launch Events.
Ongoing Marketing.
Support and Operations.
Learning Labs.
Field Coordinators.
Measuring and Reporting Progress.
Communication with Upper Management.
Communication with Line Management.
Lessons Learned in This Chapter.
Moving Forward.
Why Blended Learning Is So Important.
Where Blended Learning Is Going.
Appendices.
Appendix A: Case Studies and Solutions.
Appendix B: Blended Learning Study: Financial Overview.
Appendix: C: Case Study Business Strategies.
Appendix D: Program Checklist.
Appendix E: Eight Criteria for Media Selection.
Appendix F: Sixteen Media Types and Descriptions.
Appendix G: Glossary.
Appendix H: Selected Samples of Courseware and Media.
Appendix I: Sample Detailed Instructional Plan.
About the Author.
Index.
Pfeiffer Publications Guide.