The Brave New World of Work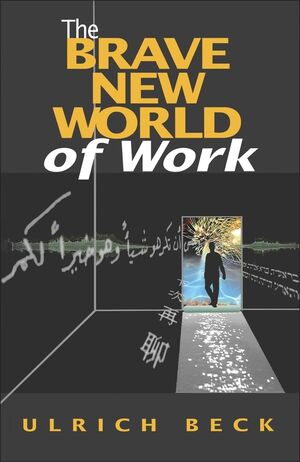 The Brave New World of Work
ISBN: 978-0-745-62398-6 May 2000 Polity 208 Pages
Description
In this important book, Ulrich Beck - one of the leading social thinkers in Europe today - examines how work has become unstable in the modern world and presents a new vision for the future. Beck begins by describing how the traditional work society, with its life-long job paths, is giving way to a much less stable world in which skills can be suddenly devalued, jobs obliterated, welfare cover reduced or eliminated. The West would appear to be heading towards a social structure of ambiguity and multiple activity that has hitherto been more characteristic of the developing world. But what appears to be the end of traditional working practices can also be seen as an opportunity to develop new ideas and models for work in the twenty-first century.

Beck's alternative vision is centred on the concept of active citizens democratically organized in local, and increasingly also regional or transnational, networks. Against the threat of social exclusion, everyone can and must have a right to be included in a new definition and distribution of work. This will involve constant movement between formal employment (with a major reduction in working hours) and forms of self-organized artistic, cultural and political 'civil labour', providing equal access to comprehensive social protection. The aim must be to turn insecurity around, so that it becomes a positive and enriching discontinuity of life.

Drawing on his earlier work on risk and reflexive modernization, The Brave New World of Work is also closely linked to his studies on globalization and individualization. These processes are part of the same challenge upon which a politics of modernity must now base itself. Not only the future of work, but also the very survival of democracy and the welfare state will depend on the development of a newly committed and 'multi-active' transnational citizenship.

This book will be of great interest to second- and third-year students in sociology, politics, geography and the social sciences generally. It will also appeal to a broader audience interested in the issues and debates surrounding the changing nature of work.
Table of contents
1. The Brazilianization of the West: Two Scenarios, One Introduction.
2. The Antithesis to the Work Society.
3. The Transition from the First to the Second Modernity: Five Challenges.
4. The Future of Work and Its Scenarios: An Interim Balance-Sheet.
5. The Risk Regime: How the Work Society is Becoming Risk Society.
6. A Thousand Worlds of Insecure Work: Europe's Future Glimpsed in Brazil.
7. The Great Example? Work and Democracy in America.
8. Vision of the Future I: The Europe of Civic Labour.
9. Vision of the Future II: Postnational Civil Society.
Notes.
Select Bibliography.
Reviews
'With characteristic panache, Ulrich Beck has once again cut right through conventional economic and political language to make his point. There is enough work to do for all, but the "work society" is gone. In the "second modernity" individuals define the patterns of their lives themselves, and a "self-active civil society" has become possible. Ulrich Beck's new book makes even New Labour look old and is thus bound to stimulate a lively debate.'
Lord Dahrendorf, formerly Director of the London School of Economics
<!--end-->

'Beck does it again - just as he challenged us in the 1990s to shift attention from capital to risk, now he calls on us to turn from paid work to civil labour in creating a postnational cosmopolitan society. This is the kind of pace-setting radical thinking necessary to keep up with the breakneck speed of change in the Global Age. Yet, another bravura performance.' Martin Albrow, Woodrow Wilson International Center for Scholars,and University of Surrey Roehampton

"Beck develops an intelligent andc well written alternative scenario to current models of work" Thomas Klikauer, University of western Sydney

'In a brief but compelling book, Beck details the problems and prospects for societies that remain trapped by an ideology focused on work ... This well-written book raises important questions and challenges dominant assumptions. It should be useful to a variety of levels and disciplines.' Choice

'There is no shortage of books about the future of work. This one is well worth reading. It greatly extends and devlops Beck's discussion of the "destandardization of labour" in his Risk Society, and makes a contribution which is original, complex, subtle, wide-ranging ... always stimulating.' Work, Employment and Society

'This book will be popular with non-academic audiences and will prove useful in getting students to think critically about the nature of society and the workplace' Progress in Human Geography 26, 1
Features
* A major new work by one of the leading social thinkers in Europe today and an important contribution to the debates on the changing nature of work.
* Beck examines the new instability of work and presents a new vision for the future of the twenty-first century.
* Argues that the survival of democracy and the welfare state depends on citizens being 'multi-active' to turn instability into an enriching part of life.