The Clubcultures Reader: Readings in Popular Cultural Studies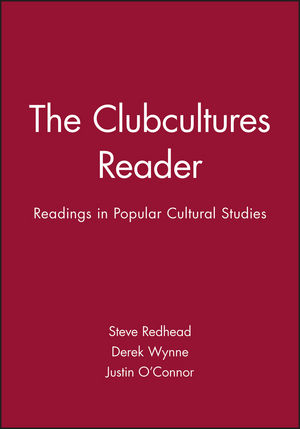 The Clubcultures Reader: Readings in Popular Cultural Studies
ISBN: 978-0-631-21216-4 August 1998 Wiley-Blackwell 260 Pages
Description
This reader in popular cultural studies meets the need for an up-to-date collection of readings on contemporary youth cultures and youth music.
About the Authors.
Introduction: Reading Pop(ular) Cult(ural) Stud(ie)s: Steve Redhead.
Part I: Theory I:.
1. Pearls and Swine: Intellectuals and the Mass Media: Simon Frith and Jon Savage.
2. Over-the-Counter Culture: Retheorising Resistance in Popular Culture: Beverly Best.
Part II: Commentaries.
3. Organised Disorder: The Changing Space of the Record Shop: Will Straw.
4. Spatial Politics: A Gendered Sense of Place: Cressida Miles.
5. Let's All Have a Disco? Football, Popular Music and Democratisation: Adam Brown.
6. Rave Culture: Living Dream or Living Death?: Simon Reynolds.
7. Fear and Lothing in Wisconsin: Sarah Champion.
8. The House Sound of Chicago: Hillegonda Rietveld.
9. Cocaine Girls: Marek Kohn.
10. In the Supermarket of Style: Ted Polhemus.
11. Love Factory: The Sites, Practices and Media Relationships of Northern Soul: Kate Milestone.
12. DJ Culture: Dave Haslam.
Plates: Patrick Henry.
Part III: Theory II: .
13. The Post-Subculturalist: David Muggleton.
14. Reading Pop: The Press, the Scholar and the Consequences of Popular Cultural Studies: Steve Jones.
15. Re-placing Popular Culture: Lawrence Grossberg.
Index.
"An excellent, wide-ranging and thought-provoking collection. It genuinely breaks new ground, is much more up to date than anything else in the field, and strikes a very good balance between descriptive and theoretical material. The case studies are fascinating and sophisticated."
Dr John Jervis, Faculty of Social Sciences, University of Kent at Canterbury

"From Punk to the politics of space in the record store, to football, popular music and democratisation, this collection of writings provides a space within which the function of popular culture can be rethought." Sophie Taysom, Social Alternatives
* Meets the need for an up-to-date Reader on contemporary youth cultures and youth music.
* Brings together distinguished and emerging young scholars.
* Helps to distinguish popular cultural studies from some aspects of the theoretical work of contemporary cultural studies.