The Film Director: Updated for Today's Filmmaker, the Classic, Practical Reference to Motion Picture and Television Techniques, 2nd Edition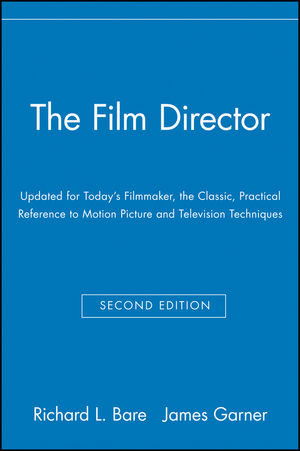 The Film Director: Updated for Today's Filmmaker, the Classic, Practical Reference to Motion Picture and Television Techniques, 2nd Edition
ISBN: 978-0-028-63819-5 May 2000 292 Pages
Description
The classic work on film directing, now fully revised for the millennium
with a foreword by James Garner
introduced by Robert Wise
The Boston Globe said The Film Director ìis more than a solid nuts-and-bolts textbook. It is a fascinating behind-the-kliegs look at the director's world. Backstage raved, At long last, a book about directing written by a successful full-time practitioner of the craft. The New York Times called The Film Director, "Interestingly written as a clear and well-illustrated handbook for the beginner", and Film Reviewer exclaimed "The aspiring director and the student could not find a more expert and practical guide to the mastering of the directorial craft".
Now, award-winning Hollywood director Richard L. Bare's invaluable work on craft and craftsmanship has been completely revised and updated for a new generation of filmmakers. In it, they will not only learn to direct, they will also perhaps more importantly ñ find out how to get a job directing.
A fascinating behind-the-scenes look at moviemaking, The Film Director uses firsthand examples from giants such as Hitchcock, Wilder, Kubrick, Stevens, and Vidor along with discussions of the working methods of Cameron, Scorsese, Spielberg, and Nichols. The mechanics and techniques of staging and handling the camera are examined, the art of keeping a story moving is explained, and working with actors so that they can give their personal best is analyzed as Bare did with the volume's foreword writer, James Garner, whom he discovered. Richard L. Bare brought George Lucas and Robert Altman to his Hollywood shoots so that they could see how industry professionals really work; now anyone who picks up this book can learn, too.
This is a must read for the beginning director on the way to a first big break, as well as for anyone interested in the challenges and triumphs of the director's art.
Table of contents
Foreword. (James Garner).

Introduction. (Robert Wise).

Preface.

Chapter 1: The Importance of the Director.

Chapter 2: The Director As Psychologist.

Chapter 3: The Director Prepares for Shooting.

Chapter 4: The Art of Rehearsal.

Chapter 5: Staging and Plotting Action.

Chapter 6: Movement and Pace.

Chapter 7: The Camera As the Director's Tool.

Chapter 8: Telling a Story with the Camera.

Chapter 9: Working with the Film Editor.

Chapter 10: The Director's Influence on Performances.

Chapter 11: Creating a Job for Yourself.

Chapter 12: The Director's Requirements and Responsibilities.

Appendix A: Director's Guild of America Award for Winners for Theatrical Direction.

Appendix B: Director's Guild of America Award Winners for Television Direction.

Appendix C: Glossary of Motion Picture and Television Terms.

Appendix D: Bibliography.

Index.