The Foot in Diabetes, 4th Edition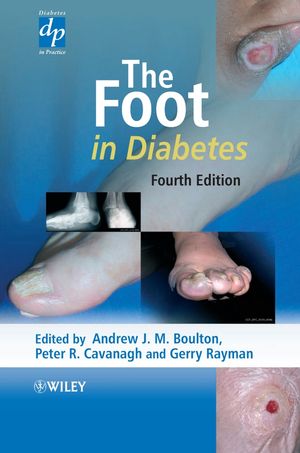 The Foot in Diabetes, 4th Edition
ISBN: 978-0-470-01504-9 May 2006 464 Pages
Description
Since the publication of the third edition of
The Foot in Diabetes
, there have been important developments in the field of diabetic foot care and its scientific basis, including: 
The introduction of new technologies such as vacuum therapy, new casting techniques, the use of hormones and growth factors in wound healing;
Advances in the understanding of the biomechanics of foot problems;
Increased problems with multidrug-resistant organisms;
The introduction of new international guidelines for the management of foot infections;
Significant progress in the use of cytokines, metalloproteinase inhibitors, stem cells and gene therapy in wound healing.
This fourth edition of this popular title maintains the strengths of earlier editions, with a strong emphasis on practical applications and management. All the chapters have been fully revised and updated, with new chapters introduced to cover the topics listed above. This book features more international contributors, giving it more global relevance than before, and for the first time it includes colour plates. 
With its focus on practically oriented advice, this book is essential reading for all members of the diabetes specialist team including diabetologists, podiatrists, specialist nurses, general practitioners, surgeons and clinical researchers.
Cannot be combined with any other offers.
Table of contents
Foreword.
Preface.
Contributors.
1. Epidemiology and Economic Impact of Foot Ulcers (Joseph W. LeMaster and Gayle E. Reiber).
2. The Epidemiology of Amputations and the Influence of Ethnicity (Nish Chaturvedi).
3. Diabetic Neuropathy (Solomon Tesfaye).
4. Microcirculation and Diabetic Foot (Singhan T.M. Krishnan and Gerry Rayman).
5. The Pathway to Ulceration: Aetiopathogenesis (Andrew J.M. Boulton).
6. What the Practising Clinician Should Know About Foot Biomechanics (Peter R. Cavanagh and Jan S. Ulbrecht).
7. The Description and Classification of Diabetic Foot Lesions: Systems for Clinical Care, for Research and for Audit (William J. Jeffcoate and Fran L. Game).
8. Providing a Diabetes Foot Care Service: Lessons from the Veterans Health Affairs in the United States (Jeffrey M. Robbins).
9. Providing a Diabetic Foot Care Service: The Exeter Integrated Diabetic Foot Project (Mollie Donohoe, Roy Powell and John Tooke).
10. The Diabetic Foot in Primary Care: A UK Perspective (Roger Gadsby).
11. Psychological and Behavioural Issues in Diabetic Foot Ulceration (Loretta Vileikyte).
12. Education in the Management of the Foot in Diabetes (Kate Radford, Susan Chipchase and William Jeffcoate).
13. Infection of the Foot in Persons with Diabetes: Epidemiology, Pathophysiology, Microbiology, Clinical Presentation and Approach to Therapy (Benjamin A. Lipsky and Anthony R. Berendt).
14. Challenges in the Infected Diabetic Foot: Osteomyelitis and Methicillin-Resistant Staphylococcus aureus (Anthony R. Berendt and Benjamin A. Lipsky).
15. Dressings: Is There an Evidence Base? (Ann Knowles).
16. New and Alternative Treatments for the Diabetic Foot: Stem Cells and Gene Transfer (Jeffrey M. Davidson).
17. An Introduction to Larval Therapy (Stephen Thomas).
18. New and Alternative Treatments for Diabetic Foot Ulcers: Hormones and Growth Factors (Matthew J. Hardman and Gillian S. Ashcroft).
19. Radiology and Magnetic Resonance Imaging of the Diabetic Foot (Richard W. Whitehouse).
20. Interventional Radiology in the Diabetic Foot (Amman Bolia).
21. Peripheral Vascular Disease and Reconstruction (Malcolm Simms).
22. Charcot Foot: What's New in Pathogenesis and Medical Management? (Edward B. Jude).
23. The Operative Treatment of Charcot Neuroarthropathy of the Foot and Ankle (Michael L. Salamon and Charles L. Saltzman).
24. Surgery for Ulceration and Infection in the Diabetic Foot (James W. Brodsky).
25. Conventional Offloading and Activity Monitoring (Lawrence A. Lavery and Douglas P. Murdoch).
26. Amputations in the Diabetic Foot (Michael S. Pinzur).
27. Rehabilitation of the Amputee with Diabetes (Ernest R.E. Van Ross and Toby Carlsson).
28. Footwear for People with Diabetes (Peter R. Cavanagh and Jan S. Ulbrecht).
29. New Casting Techniques: Introduction to the 'Instant Total Contact Cast' (David G. Armstrong, Stephanie C. Wu and Ryan C. Crews).
30. New Technologies in Wound Healing: Pressure-Relieving Dressings (Carine van Schie and Jan Ulbrecht).
31. Negative Pressure Wound (VAC) Therapy (David G. Armstrong and Andrew J.M. Boulton).
32. The Diabetic Foot in Brazil (Hermelinda Pedrosa, Andrew Boulton and Maria Stela Oliveira Dias).
33. Recent International Developments: India (Vijay Viswanathan).
34. Recent International Developments: Africa (Zulfiqarali G. Abbas and Lennox K. Archibald).
35. The International Consensus on the Diabetic Foot (Nicholaas C. Schaper and Karel Bakker).
36. 'The Organisation of Diabetic Foot Care': Evidence-Based Recommendations (Robert J. Young).
37. Primary Care: Delivery/Translation of Guidelines into Practice (Eva-Lisa Heinrichs and Michael Clark).
38. Practical Aspects of Establishing a Multidisciplinary Diabetic Foot Clinic (Michael E. Edmonds and Alethea V.M. Foster).
39. Practical Issues in Diabetes Foot Care: Podiatry – Linking Primary and Secondary Care (Neil Baker).
40. Algorithms for Assessing Risks for Ulcerations and Amputations (David G. Armstrong, Stephanie C. Wu and Ryan C. Crews).
Conclusions (Andrew J.M. Boulton, Peter R. Cavanagh and Gerry Rayman).
Index.