The Search for Modern China, 3rd Edition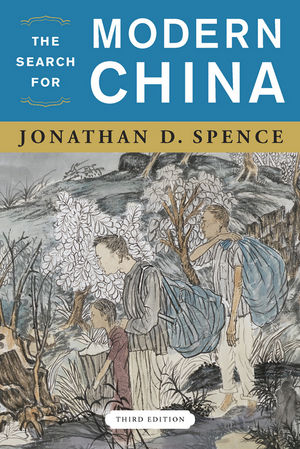 The Search for Modern China, 3rd Edition
ISBN: 978-0-393-93451-9
Dec 2012, *Norton agency titles
976 pages
Description
The leading textbook by the leading scholar.

This text, the classic introduction to modern China for students and general readers, emerged from Spence's highly successful introductory course at Yale, in which he traced the beginnings of modern China to internal developments beginning in the early 17th century. Strong on social and political history, as well as Chinese culture and its intersections with politics, this paperback is a longstanding leader in the survey course on modern China.
Part I: Conquest and Consolidation
1. The Late Ming
2. The Manchu Conquest
3. Kangxi's Consolidation
4. Yongzheng's Authority
5. Chinese Society and the Reign of Qianlong
6. China and the Eighteenth-Century World
Part II: Fragmentation and Reform
7. The First Clash with the West
8. The Crisis Within
9. Restoration through Reform
10. New Tensions in the Late Qing
11. The End of the Dynasty
Part III: Envisioning State and Society
12. The New Republic
13. "A Road is Made"
14. The Fractured Alliance
15. The Guomindang in Power
16. Communist Survival
Part IV: War and Revolution
17. World War II
18. The Fall of the Guomindang State
19. The Birth of the People's Republic
20. Planning the New Society
21. Deepening the Revolution
22. Cultural Revolution
Part V: Re-entering the World
23. Reopening the Doors
24. Redefining Revolution
25. Levels of Power
26. Testing the Limits
27. Century's End
28. Breakthrough (new chapter to this edition)
UP-TO-DATE COVERAGE AND SCHOLARSHIP
The Third Edition, entirely revised and featuring new scholarship throughout, brings the history of modern China up-to-date through the drastic changes of the last decade, including China's vast social and economic transformation, participation in the world economy, and strong political and military influence regionally and globally, all with the remnant Communist Party continuing to exercise political control. The updated final chapter examines these changes alongside the persistent tensions China continues to face: social tensions connected to the disparities in wealth between the cities and the countryside; struggles to maintain central authority in the far west; tensions between minority ethnic groups and the majority Han Chinese; and protests over control of Tibet and Tibetan populations in China.
STRONG CONNECTIONS BETWEEN THE DYNASTIC PAST AND CONTEMPORARY CHINA
The text makes strong connections between China's dynastic history and the contemporary scene, with added discussions of the commercial innovations of the great 18th century Qing emperors Kangxi and Qianlong, which encouraged entrepreneurial activity, and Chinese commercial law and practice as they applied to western merchants in the 19th century.
STEAMLINED NARRATIVE
Spence pared the narrative, particularly political and military details pertaining to the 20th-century rise of the Chinese Communist Party, in order to highlight continuities in Chinese history throughout.