What is Nature?: Culture, Politics and the Non-Human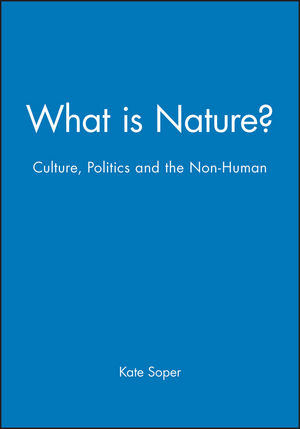 What is Nature?: Culture, Politics and the Non-Human
ISBN: 978-0-631-18891-9
Jul 1995, Wiley-Blackwell
304 pages
Description
'This is an excellent book. It addresses what, in both conceptual and political terms, is arguably the most important source of tension and confusion in current arguments about the environment, namely the concept of nature; and it does so in a way that is both sensitive to, and critical of, the two antithetical ways of understanding this that dominate existing discussions.' Russell Keat, University of Edinburgh
Acknowledgements viii
Introduction 1
1 The Discourses of Nature 15
2 Nature, Human, and Inhuman 37
3 Nature, Friend and Foe 71
4 Nature and Sexual Politics 119
5 Nature and 'Nature' 149
6 The Space and Time of Nature 180
7 Loving Nature 213
8 Ecology, Nature and Responsibility 249
Index 283
"This is an excellent book. It addresses what, in both conceptual and political terms, is arguably the most important source of tension and confusion in current arguments about the environment, namely the concept of nature; and it does so in a way that is both sensitive to, and critical of, the two antithetical ways of understanding this that dominate existing discussions."
Russell Keat, University of Edinburgh
"Pondering the related issues of environmental crisis and sustainability, readers will benefit greatly from close study of Kate Soper's extended essay on the discourse of nature and 'nature'." W. Lukin, University of London
An exploration of one of the thorniest, and most important, questions of contemporary social and political thought
Written in lively and accessbile style, this will appeal to a wide scholarly and educated audience.