eBu$iness: 7 Steps to Get Your Small Business Online... and Making Money Now!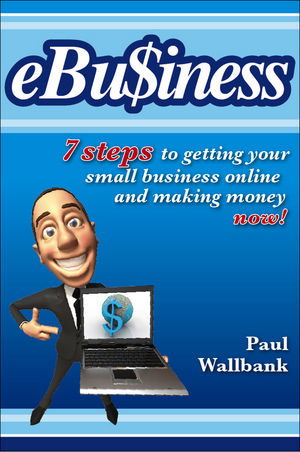 eBu$iness: 7 Steps to Get Your Small Business Online... and Making Money Now!
ISBN: 978-0-730-37625-5 June 2011 Wrightbooks 272 Pages
Description
Is your business website a money pit?
A source of frustration? A time-waster?
Does your business even have an online presence?
It's time to get your website working for you and making money.
The web and social media have become the new shopfronts where customers, staff and suppliers look to find people to do business with. eBu$iness will help anyone who wants to set up and maintain a professional web presence by showing you how to:
register an effective domain name
set up your own free or cheap website
use social media to your advantage
optimise your website so that search engines and customers can find you
take advantage of free local listing services
and much more.
Whether you already have a website or you're just starting out, eBu$iness gives you the tools and know-how to save time and money, and will help you to grow your business and make a profit.
About the author v
Introduction vii
1 Defi ne your business 1
Step 1: The free web tools.
2 Local directories 15
3 Social media 30
4 Blogging platforms 42
Step 2: The name.
5 What's in a name? 61
6 Types of domain 71
7 Choosing a registrar 81
Step 3: The technology.
8 Hosting your site 93
9 Site platforms 105
Step 4: The look.
10 Designing a website 121
11 The content 136
12 Payment options 146
13 Tracking progress 156
Step 5: Getting your name out.
14 Search engine optimisation 171
15 Paid advertising 184
Step 6: Creating fans and customers.
16 Social media rules 201
17 Staying in touch 210
Step 7: Staying relevant.
18 Ongoing maintenance 227
19 Future opportunities 236
Appendix A: Getting Australian Business Online 242
Appendix B: Choosing a consultant 253
Jargon buster 257
Index 261