Experiencing Project Management: Projects, Challenges and Lessons Learned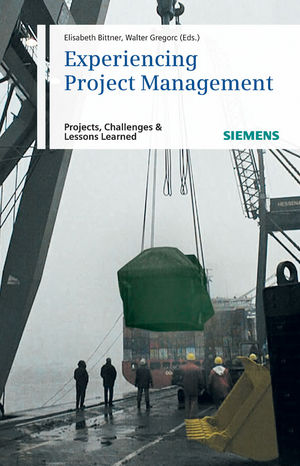 Experiencing Project Management: Projects, Challenges and Lessons Learned
ISBN: 978-3-895-78640-2 November 2010 231 Pages
Description
A project manager must not only master methods and processes, but also have the ability to deal with new, unexpected and critical situations. The book deals with these challenges, the passion for projects and the creativity which is required in order to lead projects and bring them to a successful conclusion. Experienced project managers report on exciting tasks in various countries, daily life as project managers and about their personal experiences and learning effects.
Readers will experience the fascinating appeal of the job of a "project manager", which also means constantly being prepared to get into a new task. Furthermore, the book provides ideas about how to overcome social, cultural, organisational, financial, bureaucratic or other hurdles.
Not only classic project managers - engineers and economists -, but also lawyers or industrial engineers, who work in projects or are interested in project work, will be inspired by this book, how personal commitment and professional, organisational and social capabilities combine to form this unique profession.

Table of contents
Preface.
Staying on course.
Over ten years experience with PM@Siemens.
The Project Directors Community
The exchange of experience put into practice.
From dream to reality
A new airport for Bangalore.
How to create public interest in a project
The airport project in Tirana.
Taking a second step overseas
Metro trains for Prague and Venezuela.
A Metro for Maracaibo
Success through joint responsibility.
Leading a project is like running a company
An interview with Friedrich Strobusch.
Stakeholder Family
Arabia as a project location and private living space.
Everyday life in global multi-project management
The global accessibility of a project manager and other challenges.
Taking on joint responsibility
The development of a project-oriented organisation.
Discovering improvement potential in the organisation
The MPM Assessment.
A different world
Understanding project management in Western Siberia.
Aligning a new team
The integration of VA TECH during a project in the United Arab Emirates.
From project execution to sales
Project management in healthcare.
"Just" Software?
A computer scientist in the project business.
PM certification?
Yes, but which is most appropriate?
Skytrain in Bangkok
A project during a crisis.
Securing the ground
A high-speed railway project in the Netherlands.
A project manager must be burning for his work
Passion in project management and project management in a global organisation.
From plant engineering to a product platform
Multi-project management for a regional multiple unit train
Formula 1
Creating a team from scratch or how to turn a sand pit into a race track
Sustainable personnel development through an internal certification system
How Siemens certifies its project managers – and at the same time gets to know them.
When costs and deadlines start getting out of hand
Crisis management in South Carolina.
Suddenly you are standing in front of 100 people
… and you enjoy it!
Pioneers of the project business
The Siemens brothers and the Indo-European telegraph line.
Epilogue.
Editors and authors.
Glossary.
Index.