Management Ethics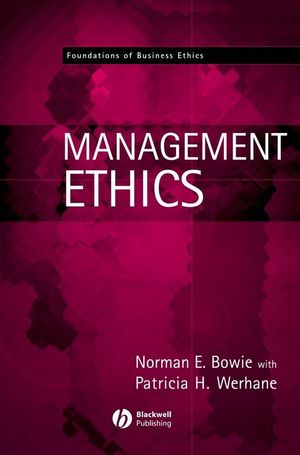 Management Ethics
ISBN: 978-0-631-21473-1 October 2004 Wiley-Blackwell 168 Pages
Description
Management Ethics
is a highly accessible and concise introduction to issues and key problems in the area of management ethics.


Examines the obligations that managers have to their various stakeholders: employees, customers, shareholders, and the community

Looks at topics at the cutting edge of business ethics, including the ethics of supply chain management, as well as dealing with the press and non governmental agencies

Considers the concepts of sustainability and triple bottom line accounting

Includes chapters on stimulating the manager's moral imagination and promoting a unique theory of ethical leadership
Table of contents
Preface.
1. My Station and Its Duties: The Function of Being a Manager.
2. Stockholder Management or Stakeholder Management.
3. The Ethical Treatment of Employees.
4. The Ethical Treatment of Customers.
5. Supply Chain Management and Other Issues.
6. Corporate Social Responsibility.
7. Moral Imagination, Stakeholder Theory and Systems Thinking: One Approach to Management Decision-Making.
8. Leadership.
Index.
Reviews
"In a fresh approach to stakeholder analysis, Bowie and Werhane articulately and persuasively hone in on the unique ethical obligations that guide manager-level decision-making.
Management Ethics
delineates the competing pressures on managers and provides them not only with insights but actual processes for ensuring accountability for their decisions."
Laura Hartman, DePaul University
"Management Ethics is up-to-date, wide-ranging, and extremely well-informed. Written from a Kantian stakeholder perspective, it presents an excellent account of the fundamentals of management ethics." George Brenkert, Georgetown University

"Bowie and Werhane combine their diverse experiences and knowledge to provide an excellent primer in management ethics. They present the basics of managers' ethics and corporate social responsibility in a clear and compelling narrative chock-full of cogent examples and core concepts." Thomas Dunfee, Wharton School, University of Pennsylvania
Features


Offers a highly accessible and concise introduction to key issues and problems in the area of management ethics

Explores topics on the cutting edge of business ethics, including the ethics of supply chain management, the ethics of dealing with the press and non- governmental agencies

Discusses the concepts of sustainability and triple bottom line accounting

Includes chapters on stimulating the manager's moral imagination and a chapter promoting a unique theory of ethical leadership