The Nonprofit Marketing Guide: High-Impact, Low-Cost Ways to Build Support for Your Good Cause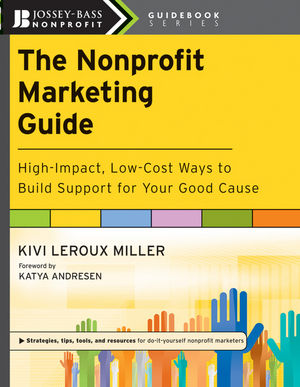 The Nonprofit Marketing Guide: High-Impact, Low-Cost Ways to Build Support for Your Good Cause
ISBN: 978-0-470-61985-8 May 2010 Jossey-Bass 256 Pages
Download Product Flyer
Download Product Flyer
Download Product Flyer is to download PDF in new tab. This is a dummy description. Download Product Flyer is to download PDF in new tab. This is a dummy description. Download Product Flyer is to download PDF in new tab. This is a dummy description. Download Product Flyer is to download PDF in new tab. This is a dummy description.
Description
A nonprofit's real-world survival guide and nitty-gritty how-to handbook
This down-to-earth book shows how to hack through the bewildering jungle of marketing options and miles-long to-do lists to clear a marketing path that's right for your organization, no matter how understaffed or underfunded. You'll see how to shape a marketing program that starts from where you are now and grows with your organization, using smart and savvy communications techniques, both offline and online. Combining big-picture management and strategic decision-making with reader-friendly tips for implementing a marketing program day in and day out, this book provides a simple yet powerful framework for building support for your organization's mission and programs.
Includes cost-effective strategies and proven tactics for nonprofits
An ideal resource for thriving during challenging times
Fast, friendly, and realistic advice to help you navigate the day-by-day demands of any nonprofit
Written by one of the leading sources of how-to info and can-do inspiration for small and medium-sized nonprofit organizations, Kivi Leroux Miller is,among other things, a communication consultant and trainer, and president of EcoScribe Communications and Nonprofit Marketing Guide.com.
Table of contents
Foreword (
Katya Andresen
).
Preface: Why I Wrote This Book.
Acknowledgments.
The Author.
Introduction: How to Use This Book.
PART ONE Getting Ready to Do It Right.
CHAPTER ONE Ten New Realities for Nonprofits.
Reality 1: Marketing Is Not a Dirty Word—Nor Is Communications or Public Relations.
Reality 2: There Is No Such Thing as the General Public.
Reality 3: You Need to Build Your Own Media Empire.
Reality 4: All Generations—Including Seniors—Are Online.
Reality 5: Nonprofit Communicators Are Transforming into Community Organizers.
Reality 6: Personal and Organizational Personalities, or Brands, Are Blending.
Reality 7: Good Nonprofit Marketing Takes More Time Than Money.
Reality 8: You've Already Lost Control of Your Message—Stop Pretending Otherwise.
Reality 9: Marketing Is Not Fundraising, but It Is Essential to It.
Reality 10: Old-Fashioned Basics Still Work Best, Even Online.
Conclusion: Try Boldly, and Try Again.
CHAPTER TWO Nonprofi t Marketing Plans in Theory—and in the Real World.
The Real Defi nition of Marketing.
The Five Ps of Social Marketing.
Elements of a Comprehensive Nonprofi t Marketing Plan.
Nonprofi t Marketing the Quick-and-Dirty Way.
Example: The American Red Cross's "Do More Than Cross Your Fingers" Campaign.
Conclusion: Always Think Before You Speak.
CHAPTER THREE Listen to the World Around You.
Watch and Listen.
Convene Informal Focus Groups.
Conduct Online Surveys.
Analyze Your Web and Email Statistics.
Review Media Kits and Advertising.
Watch for Relevant Polling and Survey Data.
Monitor Online Mentions and Social Media Conversations.
Follow Specifi c People and Sources Online.
What to Do with What You Learn.
Conclusion: Never Stop Listening.
PART TWO Writing a Quick-and-Dirty Marketing Plan for a Specifi c Program.
CHAPTER FOUR Define Your Audiences: Who Do You Want to Reach?
Recognize That You Have Multiple Audiences.
Segment Your Target Audience into Groups.
Example: Defi ning One Segment of a Target Audience.
Use Personas to More Clearly Describe Your Groups.
Example: Creating Specifi c Personas Within a Segmented Group.
Avoid Cultural Stereotypes.
Watch for Gatekeepers and Create Personas for Them, Too.
Conclusion: Don't Jump Ahead to Tactics.
CHAPTER FIVE Create a Powerful Message: What Do You Want to Say?
The Power of One Over Many.
The Power of Emotional Content.
The Power of Personal Identity.
The Power of Logic, Reason, and Statistics.
The Power of a Clear Call to Action.
Create Messages That Appeal to Your Target Audience.
Example: Matching Messages to Personas' Values.
Conclusion: Even the Relief Workers Want to Save the Darfur Puppy.
CHAPTER SIX Deliver Your Message: How and Where Are You Going to Say It?
Package Your Message into Words.
Support Your Words with Images.
Select the Best Communications Channels for Your Audience.
Use Multiple Channels to Reinforce Your Message.
Put Your Message Where Your Audience Is Already Going.
Example: Selecting Channels to Reach Volunteers.
Convince Your Supporters to Open Your Email.
Conclusion: Find the Right Mix and Give It Time to Work.
CHAPTER SEVEN Spread Your Message Further by Telling Great Stories.
Add "Storyteller" to Your Job Description.
Tell Stories with the Challenge Plot.
Tell Stories with the Creativity Plot.
Tell Stories with the Connection Plot.
Use the Six Qualities of a Good Nonprofi t Marketing Story.
Find Fresh Story Ideas.
Interview Your Supporters for Profi les and Stories.
Protect the Privacy of the People in Your Stories.
Incorporate Stories into Your Communications.
Conclusion: Stories Are a Nonprofi t's Goldmine.
PART THREE Building a Community of Supporters Around You.
CHAPTER EIGHT Make It Easy to Find You and to Connect with Your Cause.
Create a Visible and Accessible Home Base.
Be Where People Are Searching for Organizations Like Yours.
Get Your Website in Good Shape.
Improve Your Search Engine Rankings.
Establish Your Social Media Presence.
Give New Contacts Multiple Options for Staying in Touch.
Grow Your Email List.
Grow Your List of RSS Subscribers.
Grow Your List of Friends and Followers.
Stay Consistent: Branding Your Nonprofit.
Conclusion: Don't Let Potential Supporters Slip Away.
CHAPTER NINE Become an Expert Source for the Media and Decision Makers.
Why Some Groups Get the Call and Others Don't.
The Five Qualities of a Good Expert Source.
Seven Strategies to Raise Your Profi le as an Expert Source.
How to Pitch Your Story to the Media.
Who Is the Expert? You or the Organization?
Conclusion: Create Something New and Share It.
CHAPTER TEN Stay in Touch with Your Community of Supporters.
Think of Your Organization as a Media Mogul.
Strive for Shorter, More Frequent Communications in Multiple Places.
Consider the Gifting Model of Nonprofi t Communications.
Pull It All Together with a Content Creation Strategy.
Create an Editorial Calendar.
Engage in Conversations Online.
Consider Your Social Media Policy.
Conclusion: Conversation Does Pay Off.
CHAPTER ELEVEN Adopt an Attitude of Gratitude.
The "What I Got When I Gave" Experiment.
Donors Are Testing Nonprofi ts, and Nonprofi ts Are Failing.
Improve Your Thank-You Notes in Six Steps.
Publish an Annual Report.
Conclusion: Stop Making Excuses; Make the Time Instead.
CHAPTER TWELVE Empower Your Fans to Build More Support for You.
Identify Your Wallfl owers, Buddies, and Fans.
What Makes Someone a Fan?
Give Your Biggest Fans the Personal Touch.
Build Up Your Social Capital.
Be Clear About the Best Ways for People to Help.
Encourage Your Fans to Friendraise.
Encourage Your Fans to Microfundraise.
Approach New Friends of Friends.
Empower Your Biggest Fans: Lessons from the Obama Campaign.
Conclusion: Give and You Shall Receive.
PART FOUR Doing It Yourself Without Doing Yourself In.
CHAPTER THIREEN Find the Time: Get More Done in Fewer Hours.
Keep Up with Best Practices, Big Brains, and Cool Kids.
Get Fear out of the Way.
Avoid the Social Media Time Sink.
Organize What You'll Need Again and Again.
Track, Test, and Do What Works.
Conclusion: Give Yourself a Break.
CHAPTER FOURTEEN Find the Talent: Keep Learning and Get Good Help.
Everyone on Staff Is a Marketer (Like It or Not).
Build Your Own Skills.
Delegate Marketing Tasks to Others.
Empower Volunteers So They'll Come Back Again.
Hire Consultants and Freelancers.
Conclusion: Know When You Need Help—and Ask for It.
CHAPTER FIFTEEN Find the Treasure: Market Your Good Cause on a Tight Budget.
Marketing Triage: Focus in and Forget the Rest.
Go Casual and Friendly.
Shift Your Marketing from Print to Pixels.
Switching from a Print Newsletter to an Email Newsletter.
How to Make Your Remaining Print Marketing More Affordable.
Where to Spend Your Limited Dollars and Where to Scrimp.
Funding Your Nonprofi t Marketing Program.
Conclusion: Zero Communications Budget = Zero Sustainability.
CHAPTER SIXTEEN Conclusion: How Do You Know Whether You Are Doing a Good Job?
Notes.
Glossary of Online Marketing Terms.
Accessing the Companion Website.
Index.