The Nuts and Bolts of Cardiac Pacing, 2nd Edition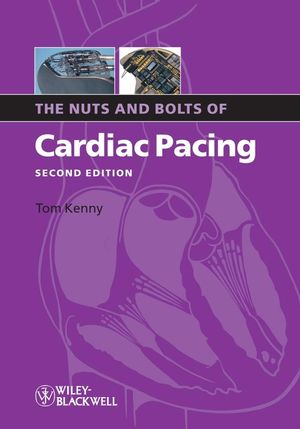 The Nuts and Bolts of Cardiac Pacing, 2nd Edition
ISBN: 978-1-444-36055-4 September 2011 Wiley-Blackwell 184 Pages
Description
While there are many excellent pacing and defibrillation books, they are nearly all written by physicians for physicians. The second edition of the successful
The Nuts and Bolts of Cardiac Pacing
has been thoroughly updated, reflecting the new challenges, issues, and devices that clinicians deal with. Written specifically for non-cardiologists in a lively, intelligent and easy to follow style, it emphasizes real-life clinical practice and practical tips, including illustrations from actual clinical settings. Each chapter concludes with a checklist of key points from each subject ("Nuts and Bolts").
New features to the second edition include:
updated terminology and images reflecting new software developments
information on new innovations and advanced features, such as ventricular intrinsic preference and AF suppression
new features on the automatic atrial capture test and follow-up features
new chapter covering clinical studies on the possible dangers of excessive RV pacing
Building layer by layer on the fundamental principles and concluding with advanced concepts, The Nuts and Bolts of Cardiac Pacing is intended for a novice to appreciate overall concepts and for a seasoned veteran to turn to answer a specific question.
This book offers practical, reliable and objective information on cardiac devices – it's easy to pick up, find what you need, and put down.
Table of contents
Introduction.
1 The healthy heart.
2 The conduction system.
3 Indications for pacing.
4 The history of pacing.
5 Implantable device codes.
6 Pacemaker technology.
7 Lead technology.
8 Implant techniques.
9 Single-chamber pacing.
10 Dual-chamber pacing.
11 Basic paced ECG interpretation.
12 Rate-responsive pacing.
13 Special features.
14 Systematic follow-up.
15 Troubleshooting and diagnostics.
16 Advanced features.
17 Clinical trials on pacing.
Appendix: A short guide to systematic pacemaker.
follow-up.
Glossary.
Index
Features
Fully updated, practical and objective information on cardiac devices for non-cardiologists


A lively, intelligent and easy to navigate style


Includes information on new findings and introduces new devices


70 illustrations from actual clinical settings


Emphasizes real-life clinical practice and practical tips


Starts with the basics and concludes with advanced concepts


Each chapter ends with a checklist of "Nuts & Bolts" (key points on each subject)