Design the Dream: A Veterinarian's Preconstruction Primer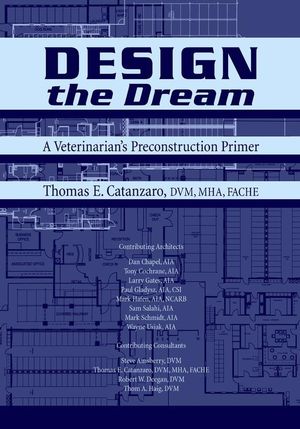 Design the Dream: A Veterinarian's Preconstruction Primer
ISBN: 978-0-813-82922-7 July 2003 Wiley-Blackwell 288 Pages
Description
The process of planning and building or renovating a veterinary healthcare facility is often long, complex, and fraught with problems. Conceived and developed as a pre-construction self-training and orientation text, Design the Dream demonstrates how members of the practice staff and technical experts work together to create a long-range plan that will assure financial viability and regulatory compliance
Table of contents
Introduction—Insights and Perspectives.
1. Planning Needs.
2. The Design Team.
3. Design Scope & Fees.
4. Design Elements.
5. Production Documents.
6. Public Relations.
7. The Building of the Practice Team and Other Mega Ideas.
8. Expanded Facility Planning Process.
Appendices A-F
Features
* Provides guidance based on the consultant team of specialists' visits to over 2,500 hospitals in the past decade.
* Describes the process of creating a new building (or altering an existing one) from conception to construction initiation.

* Explains programming and design in sufficient detail to establish a common language and understanding between the veterinarians and practice managers/administrators and the architects and engineers.

* Sparks creativity with example flow diagrams and floor plans that provide a starting point for adaptation to individual needs.

* Offers criteria to evaluate design concepts and guidance for individualization.

* Ensures that each potential veterinary practice can access the needed resources before investing their future earnings.