Photography Theory in Historical Perspective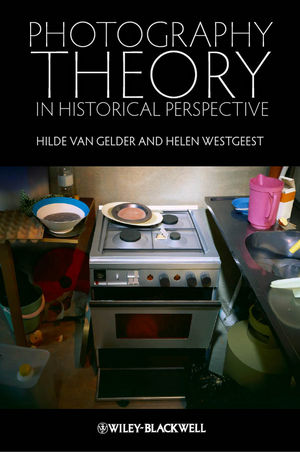 Photography Theory in Historical Perspective
ISBN: 978-1-405-19161-6 April 2011 Wiley-Blackwell 280 Pages
Description
Photography Theory in Historical Perspective: Case Studies from Contemporary Art
aims to contribute to the understanding of the multifaceted and complex character of the photographic medium by dealing with various case studies selected from photographic practices in contemporary art, discussed in the context of views and theories of photography from its inception.
uses case studies to explain photographic practices in contemporary art and place them in the context of theory
presents current debates on theory of photography through comparisons to research of other visual media
applicable to vernacular and documentary photography as well as art photography
Table of contents
Acknowledgments.
Introduction.
Structure of the Book
What is a "Medium"?
Framing the Focus of the Book.
Analog Versus Digital.
The Overlap of Themes.
1 Representation in Photography: The Competition with Painting.
Photography, Objectivity, and Representation.
Straight and Composed Photography: The Impact of the Digital.
Photographs as Iconic Index of the Reality Represented.
Aura, Authenticity, and Reproducibility in Photography.
Painting-like Photographs Versus Photo-like Paintings as Multimediating Pictures: The Question of Color.
Sharp and Blurred Photographs: Transparency and Hypermediacy.
2 Time in Photography: The Rivalry with Time-Based Arts.
Barthes's That-has-Been and Punctum.
Time Exposure and Instantaneity in Photographs.
Serial Documentation and the Decisive Moment.
Presence and Absence in Photography: Replaced Images Versus Objects of Contemplation.
3 Place and Space in Photography: Positioning Toward Virtual Places and Spatial Objects.
Constructed Places in Relation to Places That Exist(ed).
Monocular Perspective Investigated Through Divergent and Poly-ocular Perspectives.
Spatial Photographs as Extension of the Photo as Two-dimensional Image.
4 Photography's Social Function: The Documentary Legacy.
"Photography Against the Grain".
Photography, Text, and Context.
(Post-)Documentary Photographs as Art. Color, and the Politics of (Re)Presentation.
Critical Approaches of Advertising and Fashion Photography.
5 Self-reflective Photography.
Photography as Record of the Reflection of Light.
Reflections on Taking Photographs: Photograph–Camera–Photographer.
The Photograph as Product of a Process of Reflection.
Psychoanalytic Theories Projected in Photography.
From Self-reflective Digital Photography Back to Classical Mirror Mythologies.
Glossary.
References.
Credits and sources.
Index.
Reviews
"Extensive bibliography. Recommended. Upper-level undergraduates through researchers/faculty." (Choice, 1 November 2011)