Communication Systems and Techniques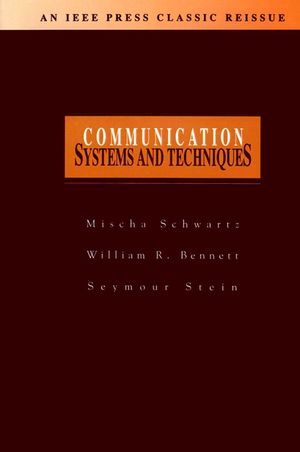 Communication Systems and Techniques
ISBN: 978-0-780-34715-1 November 1995 Wiley-IEEE Press 618 Pages
Download Product Flyer
Download Product Flyer
Download Product Flyer is to download PDF in new tab. This is a dummy description. Download Product Flyer is to download PDF in new tab. This is a dummy description. Download Product Flyer is to download PDF in new tab. This is a dummy description. Download Product Flyer is to download PDF in new tab. This is a dummy description.
Description
An introductory, graduate-level look at modern communications in general and radio communications in particular. This seminal presentation of the applications of communication theory to signal and receiver design brings you valuable insights into the fundamental concepts underlying today's communications systems, especially wireless communications.
Coverage includes: AM, FM Phase Modulation, PCM, fading, and diversity receivers.
This is a classic reissue of a book published by McGraw Hill in 1966.
Table of contents
Foreword to the IEEE Press Reissue.
Preface.
PART I Mischa Schwartz.
Chapter 1. GENERAL TUTORIAL MATERIAL.
1-1. Summary of Statistical Properties of Noise.
1-2. Orthogonal Series Representations of Noise.
1-3. A Simple Application to Binary Transmission.
1-4. Narrowband Noise and Envelope Detection.
1-5. Application to Binary Transmission.
1-6. Hilbert-transform Representation of Signals.
1-7. Preenvelope and Envelope of Signals; Application to Noise.
1-8. Low-pass Equivalents of Bandpass Signals.
Chapter 2. STATISttCAL COMMUNICATION THEORY AS APPLIED TO DIGITAt COMMUNICATIONS.
2-1. Statistical Decision Theory.
2-2. Decision Theory in the Case of Binary-signal Repetition.
2-3. Neyman-Pearson Theory of Testing Hypotheses with Application to Radar.
2-4. Signal Shape and Matched Filters.
2-5. Transmission of Two Known Messages of Arbitrary Shape.
2-6. Sampling of Band-limited Signals.
2-7. Decision-theory Approach to Af-ary Signal Transmission.
Chapter 3. CW COMMUNICATIONS: COMPARISON OF AM AND FM.
3-1. S/N ratios in AM.
3-2. Spectral Analysis of Envelope Detectors.
3-3. Correlation-function Method of Determining Power Spectrum.
3-4. Frequency-modulation Noise Analysis.
3-5. FM Noise Output, Carrier Absent.
3-6. Second Threshold in FM: Decrease in Output Signal.
3-7. Zero-crossing Analysis.
3-8. A Heuristic Approach to FM Threshold Analysis—Rice's "Clicks" Analysis.
3-9. Threshold Extension in FM: FMFB Demodulators and Phase-locked Loops.
3-10. FM Spectrum Analysis, Noiselike Modulating Signal.
PART II William R. Bennett.
Chapter 4. AMPLITUDE MODULATION AND RELATED CW SYSTEMS.
4-1. Structure of an AM Wave.
4-2. Amplitude Modulators.
4-3. Amplitude Detectors.
4-4. Systems Derived from AM.
4-5. Analysis of Modulating and Demodulating Circuits.
4-6. Effect of Distortion in Transmitting Medium.
4-7. Multiplexing of AM Channels.
Chapter 6. ANGLE MODULATION IN CW SYSTEMS.
5-1. Phase Modulation.
5-2. Frequency Modulation.
5-3. Spectral Resolution for Sinusoidal Angle Modulation.
5-4. Transmission through Linear Networks.
5-5. The FM Interference Problem.
5-6. Compound CW Modulation Systems.
Chapter 6. PULSE MODULATION.
6-1. Pulse Amplitude Modulation (PAM).
6-2. Pulse Time Modulation.
6-3. Pulse Code Modulation (PCM).
6-4. Compound Pulse-modulation Systems.
PART III Seymour Stein.
Chapter 7. BASIC BINARY COMMUNICATIONS TECHNIQUES.
7-1. Carrier Telegraphy.
7-2. Relation of Character or Code Performance to Binary Error Rate.
7-3. Representations of Bandpass Signals, Noise, and Filtering.
7-4. On-off Keying.
7-5. Frequency-shift Keying (FSK).
7-6. Phase-shift Keying (PSK).
7-7. Suboptimum versus Matched Filters.
Chapter 8. GENERAL ANALYSIS OF SINGLE-CHANNEL BINARY SYSTEMS IN ADDITIVE NOISE.
8-1. Generalized Models.
8-2. A Unified Formulation and Its Solution.
8-3. Specializations, Including Previous Results.
8-4. Distribution of Instantaneous Frequency For Signal Plus Noise.
8-5. Binary FSK with Frequency Detection.
Chapter 9. FADING COMMUNICATION MEDIA.
9-1. Role of Fading Channels within the Radio Spectrum.
9-2. Phenomenological Descriptions of Multipath and Fading.
9-3. High-frequency Ionospheric-skywave Propagation.
9-4. Tropospheric-scatter Propagation.
9-5. Single Binary Channels in Slow, Nonselective Rayleigh Fading.
9-6. Signal Behavior in Channels with Arbitrary Selectivity and Rapidity.
Chapter 10. LINE ARDIVERSITY COMBINING TECHNIQUES.
10-1. Methods for Achieving Diversity Branches.
10-2. General Principles of Linear Combining.
10-3. Diversity Improvement and Relation to System Design.
10-4. Selection Combining.
10-5. Maximal-ratio Combining.
10-6. Equal-gain Combining.
10-7. Further Comments on Comparative Combiner Statistics.
10-8. Digital Data Performance of Ideal Linear Combining Systems.
10-9. Postdetection versus Predetection Combining in FM Systems; Digital Data Transmission in FDM-FM.
10-10. Effect of Correlation in Fading among Diversity Branches.
10-11. Effect of Diversity on Distributions of Lengths of Fades.
10-12. Effect of External Noise or Interference.
Chapter 11. DECISION-ORIENTED DIVERSITY FOR DIGITAL TRANSMISSION.
11-1. Optimum Combining for Digital Signaling in Slow, Nonselective Fading.
11-2. Performance of Quadratic Combiner Systems in Slow, Multiplicative Fading.
11-3. Performance of Suboptimal Systems.
11-4. Diversity Operation Involving Energy Sharing and Energy Detection.
11-5. Wideband Antimultipath Systems (Rake).
APPENDIX A. The Q Function and Related Integrals.
APPENDIX B. Distribution of Hermitian Quadratic Form in Complex Gaussian Variates.
Bibliography.
Index.