A Companion to African American History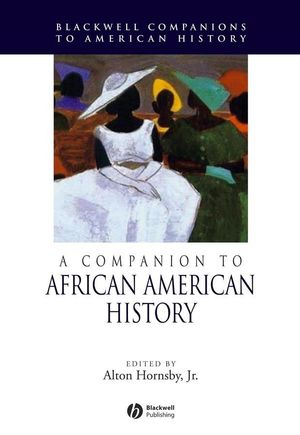 A Companion to African American History
ISBN: 978-0-631-23066-3 January 2005 Wiley-Blackwell 578 Pages
Description
A Companion to African American History
is a collection of original and authoritative essays arranged thematically and topically, covering a wide range of subjects from the seventeenth century to the present day.


Analyzes the major sources and the most influential books and articles in the field

Includes discussions of globalization, region, migration, gender, class and social forces that make up the broad cultural fabric of African American history
Table of contents
Notes on the Contributors x
Acknowledgments xiii
Introduction 1
Alton Hornsby, Jr
Part I Africa and Other Roots 3
1 Life and Work in West Africa 5
Augustine Konneh
2 Africans in Europe prior to the Atlantic Slave Trade 23
Maghan Keita
3 The African and European Slave Trades 48
Walter C. Rucker
4 Africans in the Caribbean and Latin America: The Post-Emancipation Diaspora 67
Frederick D. Opie
Part II Africans in Early North America 87
5 Ethnicity, Nationality, and Race in Colonial America 89
Jeffrey Elton Anderson
6 Not Chattel, Not Free: Quasi-Free Blacks in the Colonial Era 105
Antonio F. Holland and Debra Foster Greene
7 Africans and Native Americans 121
Tiya Miles and Barbara Krauthamer
Part III In the House of Bondage 141
8 Origins and Institutionalization of American Slavery 143
Jason R. Young
9 Labor in the Slave Community, 1700–1860 159
Frederick C. Knight
10 Spirituality and Socialization in the Slave Community 176
Jason R. Young
11 Slave Rebels and Black Abolitionists 199
Stanley Harrold
Part IV: Transculturation 217
12 The Americanization of Africans and the Africanization of America 219
Samuel T. Livingston
13 African Americans and an Atlantic World Culture 235
Walter C. Rucker
Part V: The Civil War, Emancipation, and the Quest for Freedom 255
14 African Americans and the American Civil War 257
Oscar R. Williams III and Hayward "Woody" Farrar
15 Jim Crowed – Emancipation Betrayed: African Americans Confront the Veil 271
Charles W. McKinney, Jr and Rhonda Jones
Part VI: The Maturation of African American Communities and the Emergence of Independent Institutions 283
16 African American Religious and Fraternal Organizations 285
David H. Jackson, Jr
17 The Quest for "Book Learning": African American Education in Slavery and Freedom 295
Christopher M. Span and James D. Anderson
18 The Growth of African American Cultural and Social Institutions 312
David H. Jackson, Jr
19 African American Entrepreneurship in Slavery and Freedom 325
Anne R. Hornsby
20 The Black Press 332
Shirley E. Thompson
Part VII: African Americans and Wars "For Democracy" 347
21 The Black Soldier in Two World Wars 349
Hayward "Woody" Farrar
22 Identity, Patriotism, and Protest on the Wartime Home Front, 1917–19, 1941–5 364
Hayward "Woody" Farrar
Part VIII: Gender and Class 379
23 Gender and Class in Post-Emancipation Black Communities 381
Angela M. Hornsby
24 African American Women since the Second World War: Perspectives on Gender and Race 395
Delores P. Aldridge
25 Striving for Place: Lesbian, Gay, Bisexual, and Transgender (LGBT) People 412
Juan J. Battle and Natalie D. A. Bennett
Part IX: Migration, Renaissance, and New Beginnings 447
26 Exodus from the South 449
Mark Andrew Huddle
27 Development, Growth, and Transformation in Higher Education 463
Abel A. Bartley
28 Identity, Protest, and Outreach in the Arts 476
Julius E. Thompson
Part X: Searching for Place 497
29 Searching for a New Freedom 499
Hasan Kwame Jeffries
30 "Race Rebels": From Indigenous Insurgency to Hip-Hop Mania 512
Marcellus C. Barksdale and Samuel T. Livingston
31 Searching for Place: Nationalism, Separatism, and Pan-Africanism 529
Akinyele Umoja
Index 545
Reviews
"This recent addition to the
Blackwell Companions to American History
series attests to the maturity of African American history as a discipline and its movement from the margins of academia to its role as a central component of the historical profession ... [It] stands as a useful introduction to the study of African American history and its development. No doubt, students will benefit from this exposure to the breadth of African American historiography."
Journal of Southern History
"Provide[s] good introductions to the writing on the subject ... just the right balance between historiography and a survey incorporating quotations and illustrations."
History
"A Companion to African American History is a valuable contribution of original essays. Its comprehensive coverage of themes and topics make this an important volume and essential reading for scholars, students, and general interest readers."
Darlene Clark Hine, Northwestern University

"Professor Hornsby has assembled a remarkable array of scholars whose essays tell the story of African Americans from African roots to present day struggles for identity and a place in American society. These exceptional essays illustrating the critical role that race and African American culture played in forming American culture are essential reading for anyone seeking to understand America."
James Oliver Horton, George Washington University
Features


An authoritative volume that surveys the history of African Americans and African American studies

31 original essays by expert scholars cover themes and topics from the seventeenth century to the present day

Analyzes the major sources and the most influential books and articles in the field

Includes discussions of globalization, region, migration, gender, class and social forces that make up the broad cultural fabric of African American history