Advertising by Design: Generating and Designing Creative Ideas Across Media, 3rd Edition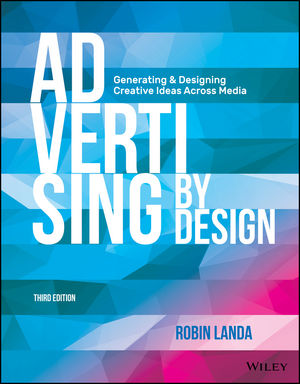 Advertising by Design: Generating and Designing Creative Ideas Across Media, 3rd Edition
ISBN: 978-1-118-97105-5 November 2016 264 Pages
Description
The guide to CREATIVE multichannel advertising design
Advertising by Design inspires truly memorable advertising ideas and design—ones that encompass the fundamentals of good advertising, a spot-on insight into the target audience, and a complete understanding of the core strategic underpinnings of the brand. Broadened to incorporate tools for conceiving ads across print, mobile, television, and social media channels, the updated and expanded Third Edition allows students and professionals to set themselves apart with a skillset to confidently operate in today's sophisticated multichannel advertising ecosystem.
Brand-new material explores all the major concepts, strategies, and design principles for transmedia campaigns, from social media and mobile apps to pull marketing as well as the artful science of generating creative, and unique, branded content.
Complete with the fresh voices of top creative directors and a diverse showcase of successful ads, Advertising by Design, Third Edition, is a must-have text for students and instructors of advertising concepts and design strategies, as well as a useful reference for practitioners.
Table of contents
Preface xi
Acknowledgments xiii
Chapter 1 Advertising Is . . . 2
The Purpose of Advertising 2
Broad Advertising Categories 3
Advertising Takes Many Forms 4
Media Channels: Paid, Owned, and Earned 6
Who Creates Advertising 6
The Ad Agency 10
Social Responsibility 11
Career Competencies and Expectations 12
What You Need to Know to Begin 12
Sample Creative Brief 13
Interview with Justin Moore, creative director, Venables Bell and Partners 14
Chapter 2 Composition by Design 18
Parts of an Ad 18
Image/Copy Relationship Constructions 20
Basic Design Principles 24
Directing the Viewer's Gaze through a Composition 33
Point of View 36
Illusion of Spatial Depth 36
The Illusion of Movement 38
Campaigns by Design: Triplets versus Cousins 38
Integrated Media Campaigns 43
Start Designing 44
Case Study: Cannes Lions Touchwall 46
Case Study: Domtar PAPERbecause 48
Chapter 3 Type and Image by Design 52
Type by Design 52
Clarity of Visual Communication 52
Selecting a Typeface for Idea, Content, and Audience 53
Image by Design 61
Imagery 63
Basics of Visualizing Form 67
Integrating Type and Image 69
Interview with Milton Melendez, creative director, Red Urban 74
Chapter 4 Building a Brand Narrative in the Digital Age 78
Strategic Thinking Underpinning the Brand Story 78
Brand Story Considerations 81
Strategic Approaches 82
Brand Storytelling 86
Case Study: Renegade 88
Chapter 5 The Ad Idea 90
Six Essential Questions 90
Seeking an Insight 91
Tools 93
Idea-Generation Process 95
Thinking Creatively: More Points of Departure for Ideation 98
Case Study: Oscar Mayer: "Wake Up and Smell the Bacon" 104
Case Study: Madden GIFERATOR 106
Interview with Dave Snyder, executive creative director, Firstborn 108
Chapter 6 Storybuilding and Content Creation in the Digital Age 110
Storybuilding in the Digital Age 110
The Core Brand Narrative: The Story Ecosystem 111
Telling a Shareworthy Story 114
Story Basics 117
Story Starters 120
Case Study: Panasonic "Share the Air" Campaign 121
Case Study: Adidas Originals 122
Essay: The Power of Story by Alan Robbins, professor, Michael Graves College 124
Interview with Scott Goodson, founder, StrawberryFrog 125
Chapter 7 Deconstructing Model Formats 128
The Appeal of Transformation 128
Conveying the Advertising Message 129
Basic Formats 131
Case Study: Jordan Brand: The Last Shot 144
Interview with Sophia Lindholm, senior art director, Forsman & Bodenfors 146
Chapter 8 Copywriting 148
Which Comes First: The Image or the Copy? 148
Copy and Image: How Should They Work Together? 149
Taglines 152
The Writing Process 154
Case Study: The Art of Shaving: Evolution Campaign 156
Chapter 9 Thinking Creatively 158
Tools That Stimulate Creative Thinking 158
Creativity through Making 162
Case Study: Mini Covert 164
Case Study: The Art of Shaving Barber Spa 167
Interview with Rosie Arnold, executive creative director, BBH 168
Chapter 10 Animation, Motion by Design & Commercials: TV, Web & Film 172
Motion Serves the Idea and Storytelling 172
Storyboard 173
Ten Guiding Principles for Storytelling in Animation or Motion 174
How a Commercial Looks: Design Essentials 175
Commercials and Social & Web Films 178
Strategy/Idea/Benefi t/Channel 179
Case Study: thinkThin Integrated Campaign 184
Interview with Mark Jackson, chief technology catalyst, McCann Worldgroup 187
Chapter 11 Digital by Design: Mobile, Social & Websites 190
Experience Focused/Media Agnostic 190
Website Basics 191
Branding 192
Mobile by Design 194
Desktop Website Design 198
Website Development 201
Social by Design 206
Case Study: Clever Girls Collective 210
Case Study: UrbanDaddy 214
Essay: Understanding and Wrangling the Web, by Manik Rathee, user-experience designer, Google 216
Interview with Gerard Crichlow, director of social and cultural innovation, AMV BBDO 218
Glossary 220
Bibliography 229
Index 232