An Introduction to Object-Oriented Analysis: Objects and UML in Plain English, 2nd Edition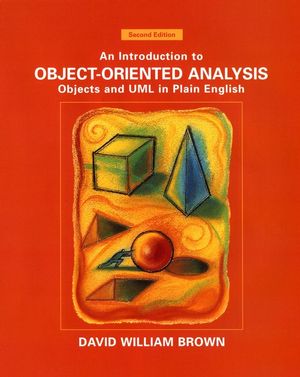 An Introduction to Object-Oriented Analysis: Objects and UML in Plain English, 2nd Edition
ISBN: 978-0-471-37137-3 July 2001 704 Pages
Description
This book is a very general and accessible introduction to Object Oriented Analysis. It contains extensive pedagogy and incorporates patient explanations, making it ideal for beginners. Incorporation of real-world examples, case studies, and in depth theory and skills for practical application makes this book very user-friendly.
Table of contents
An Introduction to the Book
Systems Development and the Software Crisis
Models and Modeling
Data-Orineted Models
Objects and Classes
The Object Oriented Development Life Cycle
Building the Requirements Model
Properties of Objects and Classes
Finding Objects and Classes in the Real World
Object States and the Statechart Diagram
Following the Trail: Examining Execution Sequences
Subsystems
Object-Oriented Design
Implementation: OOPLs and ODBMSs
Moving to Object-Oriented Techniques
The People Side of Systems Development
"The Royal Korona Yacht Club" Membership System
New To This Edition
UML incorporated throughout text-terminology and concepts.
All relevant Object Diagrams redrawn in UML notation.
New—Feasibility Analysis—Chapter 6.
Testbank updated—new exercises and questions on UML.
Website includes: End of Chapter Exercises, Additional Exercises, Self-Test Questions.
Features
Completely object oriented.
Accessible writing style.
Extensive pedagogy, including a continuing Case Study, Summary Lists, "Thought Questions," etc.
Cartoons and real world examples to hold student's interest.