Analog Integrated Circuit Design, 2nd Edition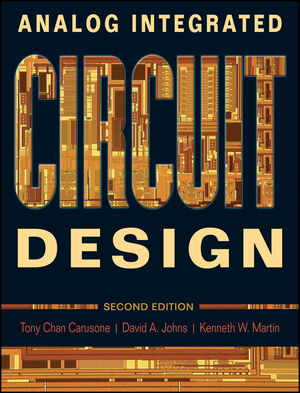 Analog Integrated Circuit Design, 2nd Edition
ISBN: 978-0-470-77010-8 November 2011 816 Pages
Description
The 2nd Edition of Analog Integrated Circuit Design focuses on more coverage about several types of circuits that have increased in importance in the past decade. Furthermore, the text is enhanced with material on CMOS IC device modeling, updated processing layout and expanded coverage to reflect technical innovations. CMOS devices and circuits have more influence in this edition as well as a reduced amount of text on BiCMOS and bipolar information. New chapters include topics on frequency response of analog ICs and basic theory of feedback amplifiers.  


Chapter 1: Integrated Circuit Devices and Modeling
Chapter 2: Processing and Layout
Chapter 3: Basic Current Mirrors and Single-Stage Amplifiers 123
Chapter 4: Frequency Response of Electronic Circuits
Chapter 5: Feedback Amplifiers
Chapter 6: Basic Opamp Design and Compensation
Chapter 7: Biasing, References, and Regulators
Chapter 8: Bipolar Devices and Circuits
Chapter 9: Noise and Linearity Analysis and Modeling
Chapter 10: Comparators
Chapter 11: Sample-and-Holds and Translinear Circuits
Chapter 12: Continuous-Time Filters
Chapter 13: Discrete-Time Signals
Chapter 14: Switched-Capacitor Circuits
Chapter 15: Data Converter Fundamentals
Chapter 16: Nyquist-Rate D/A Converters
Chapter 17: Nyquist-Rate A/D Converters
Chapter 18: Oversampling Converters
Chapter 19: Phase Locked Loops
New chapters make the text accessible to new analog circuit designers:
Frequency response
Feedback analysis
New examples and problems based upon more modern process technologies
Low voltage design topics including:
Subthreshold MOS operation
Low-voltage opamp design
Low-voltage bandgap reference
New topics to support the teaching of design in deep submicron CMOS technologies including:
MOS parameter extraction
Mismatch & variability
Proximity effects
Consolidation of introductory CMOS and bipolar material to facilitate teaching either independently
Linear voltage regulators
Noise in sampled circuits
1.5-bit per stage pipelined converter and other new A/D converter architectures
Complex signal processing
All-new modern coverage of phase locked loops including phase noise and jitter analysis
Key points are highlighted and summarized for each chapter
Online spice models and examples at the companion website: analogicdesign.com
Thorough coverage of contemporary topics, such as digital error correction, tuning and calibration, both oversampled and Nyquist-rate data converters, and integrated phase-locked loops. An intuitive approach and emphasis on practical design and analysis make it the reference for both students and practicing analog designers alike.