Apocalypse: From Antiquity to the Empire of Modernity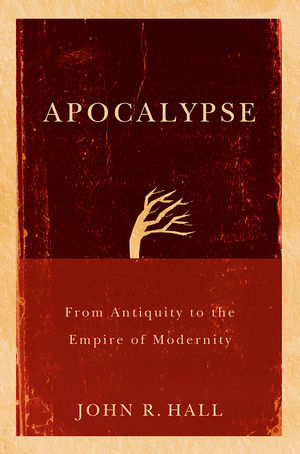 Apocalypse: From Antiquity to the Empire of Modernity
ISBN: 978-0-745-64509-4 July 2009 Polity 296 Pages
Description
Winner of the American Sociological Association's 'Distinguished Book Award' in the Religion category.
For most of us, "Apocalypse" suggests the cataclysmic end of the world. Yet in Greek "apocalypse" means "revelation," and the real subject of the Book of Revelation is how the sacred arises in history at a moment of crisis and destiny. With origins in ancient religions, the apocalyptic has been a transformative force from the time of the Crusades, through the Reformation, the French Revolution and modern communism, all the way to the present day "Islamic Jihad" and "War on Terror." In Apocalypse, John R. Hall explores the significance of apocalyptic movements and the role they have played in the rise of the West and "The Empire of Modernity."

This brilliant cross-disciplinary study offers a novel basis for rethinking our social order and its ambivalent relations to sacred history. Apocalypse will attract general readers seeking new understandings of the world in challenging times. Scholars and students will find a compelling synthesis that draws them into conversation with others interested in religion, theology, culture, philosophy, and phenomenology, as well as sociology, social theory, western civilization, and world history.
Table of contents
Acknowledgements.
1. Seeing through the apocalypse.
2. The ancient origins of history and the apocalypse.
3. Medieval Christendom and its Others.
4. Apocalypse re-formed.
5. Modernity and the apocalyptic.
6. Radical Islam and the globalized apocalyptic.
7. The last apocalypse?
Notes.
Bibliography.
Index.
Reviews
ASA 2010 DistinguishedBook Award - Religion Section
"This learned and provocative study will long remain central in the discussions to follow."
Contemporary Sociology
"Hall's mastery of this literature enables him to construct of a new theory of modernity that has an explanatory power that is clear and compelling. Apocalypse is a dense work, rich in detail and information, that is well worth reading."
Journal for the Scientific Study of Religion
"A masterly account of a phenomenon that, far from passing out with the coming of modernity,seems intent on re-charging it with its own turbulent passions."
European Journal of Social Theory
"An extraordinarily erudite and readable book about the apocalyptic imaginary and its range over three millenia."
Review of Politics
"In this brilliantly conceived study, Hall not only presents a fascinating array of images about the end of time from antiquity to the present, but also forces us to rethink the role of apocalyptic thinking in the human imagination. This mind-bending study shows us that there is an apocalyptic strand to modernity and history, and will affect our own way of thinking about the global future."
Mark Juergensmeyer, University of California, Santa Barbara
"This is a necessary book. Theoretically sophisticated, historically erudite, Hall explains the contemporary crisis in a new way. Conflicts between the religious and the secular have given way to confrontations between sacred and profane. Apocalypse has entered fully into modern history, and it may be here to stay."
Jeffrey C. Alexander, Yale University
"The apocalyptic imagination, the idea that historical time could come to an end is indeed a fascinating one. Moreover, as we learn from John R. Hall's impressive study, this idea itself has a history which he traces across the centuries from Ancient Babylonia to contemporary America and Islamic radicalism. The book represents a highly illuminating analysis of the reality and power of social imaginations of time and the end of times."
Martin Riesebrodt, University of Chicago
"Anyone who has ever wondered 'What on earth is the world coming to?' should read Apocalypse. Few will fail to learn much from this masterly tour de force as John Hall takes us on a sometimes astonishing, occasionally chilling, and always gripping journey through history, explaining how alternative visions of time can herald alternative versions of The End."
Eileen Barker, London School of Economics