Architectural Detailing: Function, Constructibility, Aesthetics, 3rd Edition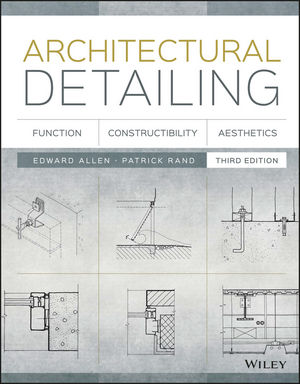 Architectural Detailing: Function, Constructibility, Aesthetics, 3rd Edition
ISBN: 978-1-118-88199-6
Mar 2016
384 pages
Description
THE CLASSIC DETAILING TEXT, UPDATED WITH THE LATEST DEVELOPMENTS IN PRACTICE AND CODES
Architectural Detailing is the go-to text for learning to design details that perform well and look great. Systematically laying out the principles of quality architectural detailing in a highly visual format, this book demonstrates the proper integration of appropriate detailing into ambitious designs, not just safe ones. This new third edition has been updated to include information on new materials, assemblies, and construction methods, and employs recently built works in order to extract underlying principles that can serve as a basis for new patterns. While primarily US-centric in regulatory matters, the text is fully aligned with International Building Codes, and touches on other jurisdictions and geographical settings to provide a well-rounded reference on architectural detailing.
Understand detailing patterns related to function, constructibility, and aesthetics
Learn how detailing patterns are applied during the design process
Follow along with the detailing process of wood, concrete, and brick veneer buildings
Apply detailing principles and patterns through hands-on exercises
With comprehensive coverage and over 500 illustrations, Architectural Detailing is the most current and useful reference to guide designers through the process of architectural detailing.
Introduction x
PART I DETAIL PATTERNS
SECTION 1 FUNCTION
FUNCTION INTRODUCTION xxx
CONTROLLING WATER xx
Wash xx
Overlap xx
Overhang and Drip xx
Drain and Weep xx
Unobstructed Drainage xx
Ventilated Cold Roof xx
Foundation Drainage xx
Moisture Break xx
Capillary Break xx
Labyrinth xx
Rainscreen Assembly and Pressure Equalization xx
Upstand xx
Sealant Joints and Gaskets xx
CONTROLLING AIR xx
Air Barrier System xx
Weatherstripped Crack xx
CONTROLLING HEAT FLOW xx
Thermal Insulation xx
Thermal Break xx
Multiple Glazing xx
White and Bright Surfaces xx
Reflective Glazing xx
Reflective Surface and Airspace xx
Outside-Insulated Thermal Mass xx
CONTROLLING WATER VAPOR xx
Warm Interior Surfaces xx
Warm-Side Vapor Retarder xx
Vapor Ventilation xx
Condensate Drainage xx
CONTROLLING SOUND xx
Airtight, Heavy, Limp Partition xx
Cushioned Floor xx
Quiet Attachments xx
Sound-Absorbing Surfaces xx
ACCOMMODATING MOVEMENT xx
Seasoning and Curing xx
Vertical-Grain Lumber xx
Equalizing Cross Grain xx
Relieved Back xx
Foundation Below Frost Line xx
Structure/Enclosure Joint xx
Abutment Joint xx
Expansion Joint xx
Control Joint xx
Sliding Joint xx
Building Separation Joint xx
PROVIDING STRUCTURAL SUPPORT xx
Small Structures xx
Connecting Dissimilar Materials xx
Distributing Loads xx
PROVIDING PASSAGES FOR MECHANICAL AND ELECTRICAL SERVICES xx
Vertical Chase xx
Horizontal Plenum xx
HEALTH AND SAFETY xxx
Safe Footing xxx
Fall Protection xxx
Safe Edges xxx
Safe Glazing xxx
Nontoxic Materials xxx
Firesafe Materials xxx
Fire-Resistant Assemblies xxx
Barrier-Free Design xxx
Universal Design xxx
PROVIDING FOR THE AGING OF THE BUILDING xxx
Life Cycle xxx
Expected Life xxx
Surfaces That Age Gracefully xxx
Repairable Surfaces xxx
Cleanable Surfaces xxx
Maintenance Access xxx
Dry Wood xxx
Protected and Similar Metals xxx
Less Absorbent Materials xxx
Robust Assemblies xxx
Building Armor xxx
Extreme Event Protection xxx
SECTION 2 CONSTRUCTIBILITY
CONSTRUCTIBILITY INTRODUCTION xxx
EASE OF ASSEMBLY xxx
Uncut Units xxx
Minimum Number of Parts xxx
Parts That are Easy to Handle xxx
Repetitious Assembly xxx
Simulated Assemblies xxx
Observable Assemblies xxx
Accessible Connections xxx
Installation Clearance xxx
Detailing for Disassembly xxx
Nonconflicting Systems xxx
FORGIVING DETAILS xxx
Dimensional Tolerance xxx
Sliding Fit xxx
Adjustable Fit xxx
Reveal xxx
Butt Joint xxx
Clean Edge xxx
Progressive Finish xxx
Forgiving Surface xxx
EFFICIENT USE OF CONSTRUCTION RESOURCES xxx
Factory and Site xxx
Repetitious Fabrication xxx
Rehearsing the Construction Sequence xxx
Off-the-Shelf Parts xxx
Local Skills and Resources xxx
Aligning Forms with Forces xxx
Refining the Detail xxx
All-Weather Construction xxx
Pride of Craftsmanship xxx
Accepted Standards xxx
SECTION 3 AESTHETICS
AESTHETICS INTRODUCTION xxx
Contributive Details xxx
Timeless Features xxx
Geometry and Proportion xxx
Hierarchy of Refinement xxx
Intensification and Ornamentation xxx
Sensory Richness xxx
Formal Transitions xxx
Didactic Assemblies xxx
Composing the Detail xxx
PART II DETAIL DEVELOPMENT
SECTION 1 APPLYING THE DETAIL PATTERNS XXX
Detailing a Building in Wood Light Framing xxx
Detailing a Building in Architectural Concrete xxx
Detailing a Brick Facing on a Concrete Frame xxx
SECTION 2 GETTING STARTED XXX
APPENDICES xxx
The Detailer's Reference Shelf xxx
Formulating Exercises for Self-Study or Classroom Use xxx
INDEX xxx
"...this book presents the drawings alongside a clear description of the function of each individual element. This book would be valuable for anyone who wants to learn how and why things are built, rather than just copying some random detail from a google image search."
–East-West News Service, May 2016