Badlands of the Republic: Space, Politics and Urban Policy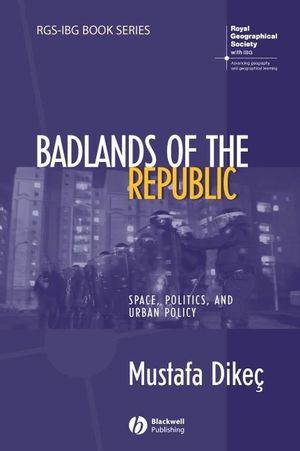 Badlands of the Republic: Space, Politics and Urban Policy
ISBN: 978-1-405-15630-1 August 2007 Wiley-Blackwell 236 Pages
Description
The relationship between space and politics is explored through a study of French urban policy. Drawing upon the political thought of Jacques Rancière, this book proposes a new agenda for analyses of urban policy, and provides the first comprehensive account of French urban policy in English.


Essential resource for contextualizing and understanding the revolts occurring in the French 'badland' neighbourhoods in autumn 2005

Challenges overarching generalizations about urban policy and contributes new research data to the wider body of urban policy literature

Identifies a strong urban and spatial dimension within the shift towards more nationalistic and authoritarian policy governing French citizenship and immigration
Table of contents
List of Figures and Tables.
List of Abbreviations and Acronyms.
Series Editors' Preface.
Acknowledgements.
Part I: Badlands:.
1. Introduction: The Fear of 'the Banlieue'.
The Colour of Fear.
Organization of the Book.
2. State's Statements: Urban Policy as Place-Making.
Neoliberalism, Neoliberalization and the City.
The Republican State and Its Contradictions.
The Republican Penal State and Urban Policy.
Part II: The Police:.
3. The Right to the City? Revolts and the Initiation of Urban Policy.
The Hot Summer of 1981: How Novel is 'Violence'?.
Brixton in France? The Haunting of the French Republic.
The 'Founding Texts' of Urban Policy.
The 'Anti-immigrant Vote'.
Consolidation of Urban Policy.
Conclusions: Consolidation of the Police.
4. Justice, Police, Statistics: Surveillance of Spaces of Intervention.
When the Margin is at the Centre.
The 'Return of the State'.
'I Like the State'.
Justice, Police, Statistics.
Conclusions: Looking for a 'Better' Police ….
… a 'Republican' One.
5. From 'Neighbourhoods in Danger' to 'Dangerous Neighbourhoods': The Repressive Turn in Urban Policy.
Encore! The Ghost Haunting the French Republic.
Pacte de Relance: Old Ghosts, New Spaces.
'They are Already Stigmatized': Affirmative Action à la française.
Is 'Positive Discrimination' Negative?.
Insecurity Wins the Left: The Villepinte Colloquium.
Remaking Urban Policy in Republican Terms.
Whither Urban Policy?.
The Police Order and the Police State.
Back to the Statist Geography.
Conclusions: Repressive Police.
Part III: Justice in Banlieues:.
6. A 'Thirst for Citizenship': Voices from a Banlieue.
Vaulx-en-Velin between Official Processions and Police Forces.
Vaulx-en-Velin after the trentes glorieuses.
A 'Thirst for Citizenship'.
A Toil of Two Cities (in One).
Whose List is More 'Communitarian'?.
Conclusions: Acting on the Spaces of the Police.
7. Voices into Noises: Revolts as Unarticulated Justice Movements.
Revolting Geographies.
Geographies of Repression: 'Police Everywhere, Justice Nowhere'.
Policies of Urgency: '20 Years for Unemployment, 20 Years for Insecurity'.
Conclusions: Form a 'Just Revolt of the Youth' to 'Urban Violence'.
8. Conclusion: Space, Politics and Urban Policy.
Notes.
References.
Index
Reviews
"This is a knowledgeable, intelligent, and highly readable account of an issue that has featured prominently in French politics and public policy during the last quarter of a century." (Journal of Planning Education and Research, 8 September 2008)

"It's a fine book. Doubly so, for not only does it meld theoretical deftness with convincing empirical information, it also has the virtue of taking us out of our English speaking milieu...Are you an inquisitive urban geographer? If so, having read Dikeç as your indispensable primer, next time you're in Paris leave the Eiffel Tower behind and go out to La Courneuve. Or in Strasbourg, view the cathedral but then board the Line C tram right next to it which takes you out to Le Neuhof, like La Courneuve one of the original sixteen social development urban neighborhoods. Get a taste of another, and real, urban France. Dikeç has." (Geographical Review, December 2010)
"Dikec¸'s examination of French national policy development toward the suburban banlieues is tight and focused in its objectives and execution." (Annals of the Association of American Geographers and The Professional Geographer)
Features


Essential resource for contextualizing and understanding the revolts occurring in the French 'badland' neighbourhoods in autumn 2005

Challenges overarching generalizations about urban policy and contributes new research data to the wider body of urban policy literature

Identifies a strong urban and spatial dimension within the shift towards more nationalistic and authoritarian policy governing French citizenship and immigration

First comprehensive account of French urban policy written in English